Dildo-waving kids star in gun safety PSA (VIDEO)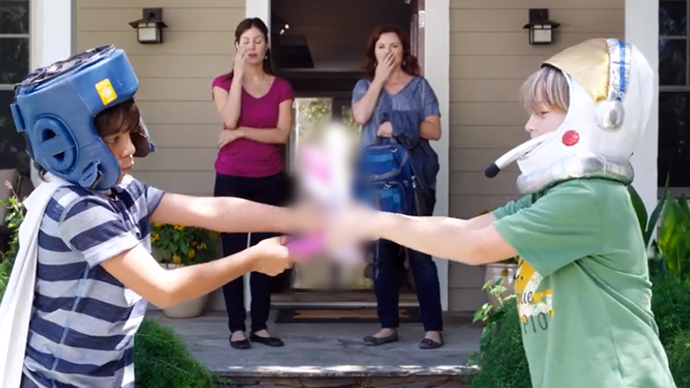 ​Gun safety advocates are raising eyebrows with a new public service announcement that uses sex toys to try and sell the concept that firearms should be kept away from kids.
The 30-second-long, dildo-dominated advert from the safety advocacy group Evolve has garnered over 900,000 hits on YouTube in only two days, and the eye-catching campaign is not only going viral, but getting people to talk.
In the PSA, two women are shown standing before the front entrance of home exchanging pleasantries as one starts to say her goodbyes. After one of them calls for her child to come outside and head off however, two young boys race out the door and begin battling one another on the lawn not with fake plastic swords purchased from a children's toy shop, but with flimsy, phallic novelties fit for the bedroom.
As the two mothers stand by shocked and watch in awe as their children hammer at each other with sex toys, a narrator says: "If they find it, they'll play with it. So always lock up your guns."
Hilarious, mayhaps — but the people behind the PSA say that gun owners need to take responsibility and realize that it's no laughing matter when it comes to keeping kids away from items they were never intended to have their hands on.
"Our PSA is humorous, but the message is serious," Evolve Together co-founder Rebecca Bond said in a statement. "Parents need to take ownership of safety in the house."
"If you don't want kids to play with it, put it away – it's up to you to keep your stuff locked up," Bond added. "We're using humor to cut through political correctness and deliver a simple message. Americans can have a serious conversation about firearm safety that doesn't devolve into a political abyss."
The McCann Erickson-produced PSA surfaced online this week just a study was published by the gun control advocacy group Everytown for Gun Safety in which it was reported that at least 100 children across the United States have died as a result of accidental shootings since the December 2012 massacre at Sandy Hook Elementary School in Newtown, Connecticut.
"There are not enough laws to ensure that with rights come responsibilities," Shannon Watts of Moms Demand Action for Gun Sense in America told USA Today this week when the paper reported on the latest study."These are preventable deaths – 70 percent of them could have been avoided if gun owners had just stored their guns responsibly."
"We study everything in this country — even pool safety. There are even laws about how to prevent a child from being stuck inside of a refrigerator. But the gun lobby has been very effective in stopping any kind of research on this," Watts said.
John Feinblatt, the president of Everytown, said upon the release of that report that unnecessary gun deaths are indeed avoidable. "Too often we just say it is an accident or inevitable. But what this data shows is it's preventable," he said.
On Evolve's website, the group says "Evolve does not address legislative issues, but instead focuses on exerting social pressures in order to persuade individuals to voluntarily adopt the most responsible gun safety behaviors in the context of their lives and communities."
"We don't think that safety's a side," Bond told Huffington Post this week. "Safety in the gun category should be inspiring, people should be inspired to make good choices, and safety should be cool."