At least 100 children killed by unintentional shootings since Newtown, study finds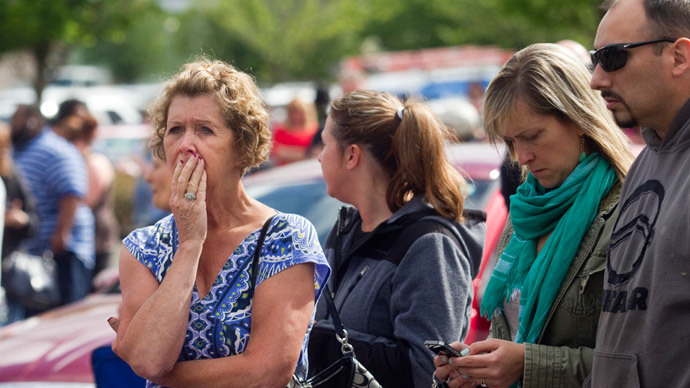 Accidental shootings have taken the lives of at least 100 children across the United States in the year following Newtown, Connecticut's Sandy Hook Elementary School tragedy, a new report states.
According to a study conducted by the gun control advocacy group Everytown for Gun Safety, unintentional shootings have been responsible for about two child deaths every week since the December 2012 tragedy. Over the course of 52 weeks, that tally results in a total number of deaths that's significantly higher than the yearly average (62 deaths) logged in federal records by the Centers for Disease Control and Prevention.
The incidents were tallied through a review of news stories and other services in the 12 months following the Sandy Hook massacre, in which 20 students and six employees were killed. The accidents occurred in 35 states, primarily in rural areas. What's more, the report found 73 percent of the deaths were at the hands of a minor, defined as someone 14 years or younger, who in many cases was playing with a firearm.
Pointing to the data, Shannon Watts of Moms Demand Action for Gun Sense in America told USA Today there needs to be better laws regarding child access to guns, and that those who don't secure their weapons safely should be held accountable.
"There are not enough laws to ensure that with rights come responsibilities," she said. "These are preventable deaths – 70 percent of them could have been avoided if gun owners had just stored their guns responsibly."
"We study everything in this country — even pool safety. There are even laws about how to prevent a child from being stuck inside of a refrigerator. But the gun lobby has been very effective in stopping any kind of research on this."
The study noted that about 65 percent of the recorded deaths occurred in homes or vehicles owned by the victim's family and generally involved firearms that were owned legally but not properly stored. Thirty-five percent of the cases involved a child shooting themselves accidentally, and more than 65 percent could have been avoided if owners restricted child access to the firearm.
"Toddlers have the highest risk of unintentionally shooting themselves," Watts added. "In the news we hear: 'Toddler shoots baby. Toddler shoots himself.' This doesn't happen in any other developed nation, and it shouldn't happen in ours."
Everytown has been criticized in the past for using its own method to keep track of shootings, particularly since the number of deaths it recorded was notably higher than the CDC's. The gun control group defended its report, though, saying that coroners and medical examiners often label unintentional deaths as homicides before all the facts are in. A group representative told the Huffington Post that questionable incidents were followed up on with local law enforcement and, in cases where the circumstances of a shooting remained unclear, did not count the death toward their total.
Gun control advocates have also blamed the National Rifle Association for lobbying against permitting the CDC to conduct its own research on gun deaths. Since 1996, funding for research that could promote gun control has been banned by Congress, meaning the agency's statistics are compiled from other sources.
"We are meticulous about our information and research," Everytown representative Erika Soto Lamb said to Huffington Post. "We are working against the gun lobby, which has, for decades, tried to suppress this information."
The NRA's managing director of public affairs, Andrew Arulanandam, defended his organization's stance by raising the possibility that the CDC would create propaganda against gun rights.
"We have no reason to have any faith in the Obama administration doing anything other than abusing their authority and taxpayer resources to further a political agenda," he told USA Today.
Equating accidental gun deaths with drunk driving, Everytown president John Fienblatt said there is "research that is compelling that laws that impose criminal sanctions are effective." The group is pushing for better education regarding gun storage and laws that levy "criminal liability" on those who don't secure their weapons properly.
You can share this story on social media: