Harley-Davidson builds first electric motorcycle (PHOTOS, VIDEOS)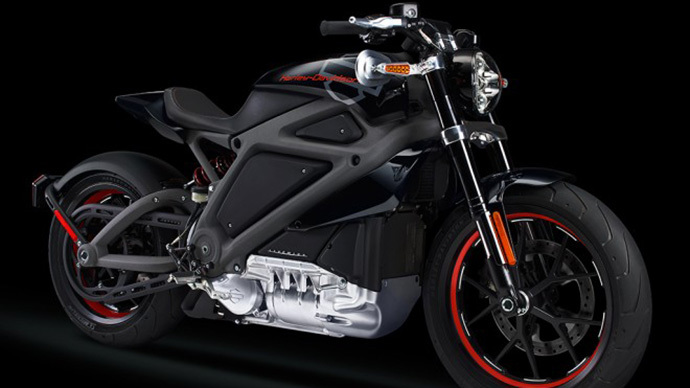 ​The latest creation from Harley-Davidson can go from zero to 60 miles-per-hour faster than you can finish reading this sentence, but you'll be hard pressed to find one at your local filling station anytime soon.
Not only is Harley-Davidson's newest bike not available on the market yet — the company will start touring a dozen prototypes around the United States next week — but it's also the first bike from the iconic American company that runs entirely on electrical power.
"As a company, we have always been about strength and freedom and power," Matthew Levatich, Harley-Davidson's president and chief operating officer, told the Chicago Tribune during a recent showing of his company's new LiveWire motorcycle. "So it's really a question of 'why not?' instead of 'why?' This isn't some sort of ploy for us. This is real."
"America at its best has always been about reinvention," Levatich added in an official statement this week. "And, like America, Harley-Davidson has reinvented itself many times in our history, with customers leading us every step of the way. Project LiveWire is another exciting, customer-led moment in our history."
Not only that, but the impressive bike is also, according to chief engineer Jeff Richlen, "a great, kick-ass motorcycle."
"It just happens to be electric," Richlen told the Tribune.
Journalists at Wired recently took the LiveWired out for a spin and agreed that, like the H-D team insists, their latest bike is "actually pretty cool."
"The Hell's Angels aren't going to be riding them anytime soon, but the bike offers an entertaining blend of power and comfort. It doesn't sound anything at all like a proper Harley — or a 'fighter jet landing on an aircraft carrier' as Harley brass say — but it's got a futuristic sound that brings to mind an airliner taking to the air," Wired's Alex Davies said after riding the bike.
The official specs for the bike suggest it can reach speeds of 92 mph thanks to a 74 horsepower engine and 52 foot-pounds of torque but Richlen told Wired that all that might change. For now, he said, the LiveWire is a work in progress based off of "what we think our customers are looking for."
"Any business has always got to look ahead to see where customers are interested in going, and see where society might be going," he said.
Indeed, Harley-Davidson isn't the first company to work on a motorcycle that relies on electricity. For now, however, that demand has been below what retailers would like to see in the US. The country's top selling electric motorcycle, for instance — manufactured by Santa Cruz, California's Zero — only moves a few thousands units a year, according to the Tribune. Other competing US companies have only seen a fraction of that success.
Nevertheless, the company says their latest project seems to be the appropriate step in the right direction given the recent demand for electric bikes.
"We offer a no excuses riding experience in everything we do and we are led by what our customers tell us matters most," Richer said in a statement. "Because electric vehicle technology is evolving rapidly, we are excited to learn more from riders through the Project LiveWire Experience to fully understand the definition of success in this market as the technology continues to evolve."