Teenager heads home after 16-mo custody battle between parents and state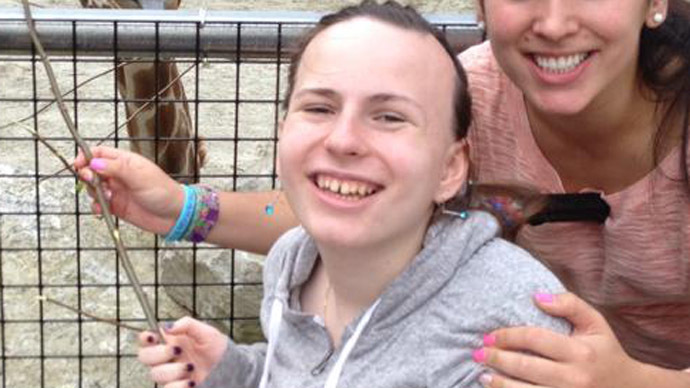 Justina Pelletier, the Connecticut teenager kept from her family by the Massachusetts government for 16 months as a custody battle raged over her medical care, is finally back at home.
"She wants a hamburger on the grill, and she wants to sit down and lie on the couch and watch a movie with the family," Linda Pelletier, her mother, said to the Boston Globe on Wednesday before Justina's return.
On Wednesday, Justina left the Thompson, Conn. therapeutic education center where she had been living since mid-May and returned to her family home in West Hartford, bringing to an end the prolonged battle between her parents and the commonwealth of Massachusetts. The homecoming came one day after a Baystate juvenile judge ruled that the 16-year-old's parents could regain full custody of her.
The moment we have all been waiting for. Lou carrying Justina into their home! #freejustinapic.twitter.com/mo4cxPnmWW

— Rev. Patrick Mahoney (@revmahoney) June 18, 2014
"To hear the news is overwhelming," Lou Pelletier told FoxNews.com moments after learning of the ruling. "Now we can certainly begin the healing process."
"We are so thankful and thrilled that Justina is at long last being returned to the loving arms of her family. The Pelletiers are relieved that this 16-month nightmare is finally over," Rev. Patrick Mahoney, a family spokesman, said in 
a statement.
Justina's case gained national prominence in the US over issues of medical child abuse - a syndrome in which parents fake illnesses in children to gain attention - and parental rights, the Boston Globe reported.
Justina's parents say their daughter suffers from mitochondrial disorder, a rare genetic illness that can cause severe fatigue and intestinal issues. She was being treated by Mark Korson, a metabolic disorders specialist at Tufts Medical Center outside Boston, Mass. She had been a patient there for several years when Dr. Korson told her parents to take Justina to a gastroenterologist at Boston Children's Hospital in February 2013, Slate reported.
But Justina never saw the gastroenterologist, and she never returned home.
Doctors at Children's concluded her difficulty walking and intestinal problems were due to psychological issues. They diagnosed her with somatic symptom disorder, a psychiatric condition akin to hypochondria, according to Slate. They filed allegations of suspected child medical abuse, and the Massachusetts Department of Children and Families was granted permanent legal custody of Justina in March, despite protests from her family and her doctor at Tufts. Judge Joseph Johnston sided with DCF, saying that the agency had proved during closed-door juvenile court hearings that "the Pelletiers were unfit to handle their child's complex needs and should not be restored custody of their child," the Boston Globe reported at the time.
Justina spent a year in a locked psychiatric ward before being moved to a residential facility two hours from her parents' home in Hartford, Conn. The family was allowed weekly supervised visits during that time, ABC News reported.
Just before the commonwealth was granted permanent custody of Justina in March, Johnston ruled that she would get treatment with Dr. Korson and her original team of doctors at Tufts.
When he granted Massachusetts permanent custody of the girl, Johnston wrote that the Pelletiers had called Boston Children's personnel Nazis "and claimed the hospital was punishing and killing Justina. Efforts by hospital clinicians to work with the parents were futile and never went anywhere," according to the Globe.
At the beginning of May, the Massachusetts Department of Health and Human Services created a reunification plan for the Pelletier family, which would allow Justina to return home to her parents Lou and Linda, but where DCF would retain custody of the girl, TheBlaze reported at the time. A week later, she was transferred to the JRI Susan Wayne Center for Excellence in Thompson.
Justina with her family at her new location! Pray she is home soon! #freejustinapic.twitter.com/WBxLFbRmGg

— Rev. Patrick Mahoney (@revmahoney) May 12, 2014
Justina was allowed to visit her family several times after she was transferred to the therapeutic education center, including spending Father's Day at a barbecue at the Pelletier's house.
"She didn't want to go back," her father, Lou Pelletier, said to the Hartford Courant. "But she's home now, and until she moves out on her own, she's here as long as she wants to be."
So excited! Here is Justina in her moms car with her stuff ready to go home! #freejustinapic.twitter.com/S28AswzIvu

— Rev. Patrick Mahoney (@revmahoney) June 18, 2014
Although the 16-year-old is now home, the family hopes to use their story to prevent hospitals from using accusations of medical child abuse to seize custody of children in the future.
Lou told the Globe he "will not stop until there is a Justina's Law."
"Ultimately, anybody who was involved in Justina's deconditioning, torture, abuse, needs to be held accountable," he said.
One of Justina's older sisters, Jessica, said she's eager to "just be a normal family again."
#JustinaPelletier at home with all her sisters in #WestHartfordpic.twitter.com/yxVz8OWhfb

— Suzanne Carlson (@SuzanneMCarlson) June 18, 2014
For her part, Justina said she looks forward to swimming, having a "sparkle" themed party, and attending a Red Sox game at Fenway Park with her father, the Courant reported.
Linda Pelletier told the Globe that Justina cannot walk now, but that the family plans to enroll her in pool therapy to help her regain strength, in the hopes she will eventually be able to return to figure skating, a sport she competed in before being confined to a wheelchair due to her illness.
You can share this story on social media: