US Russian couple seeking answers after police 'ripped baby from their arms'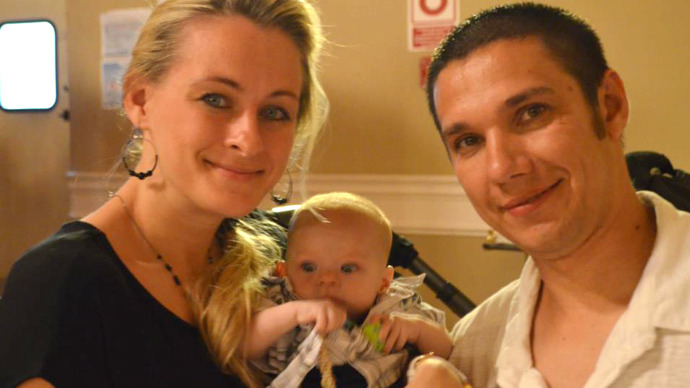 A young Russian couple living in California is struggling to understand the events of the past few weeks, which began with a trip to the hospital and continued days later with police forcing entry into the couple's home to take their child.
Anna Nikolayev and her husband Alex brought their five-month-old boy Sammy to Sacramento's Sutter Memorial Hospital after he began exhibiting flu symptoms. He had been diagnosed with a heart murmur at birth, according to News 10, a local ABC affiliate. 
Sammy was admitted to the hospital's Intensive Care Unit, at which point his mother witnessed a nurse administering the baby with antibiotics, apparently without instructions from the doctor. 
"I asked her, 'For what is that?' And she's like 'I don't know.' And then I said 'You're working as a nurse and you don't he know what you're giving my baby?'" Anna struggled to explain through her tears. 
Mrs. Nikolayev added that a doctor said the child should not have been given antibiotics, although they did want to perform heart surgery on Sammy immediately. At that point, Anna said, the couple decided to rush Sammy out of the hospital in search of a second opinion on his condition. 
"If [they made] one mistake after another, I don't want to let my baby have surgery in the hospital where I don't feel safe," she said. 
The parents traveled directly from Sutter Memorial to Kaiser Medical Center in Sacramento, where doctors released Sammy to the care of his parents. 
"I do not have concern for the safety of the child at home with his parents," a note from a doctor said. Anna and Alex were forced to show the note to police, who came to the second hospital, presumably after staff at Sutter Memorial called 911. 
"The police showed up there. They saw the baby was fine," Anna told News 10. "They told us that Sutter was telling them so much bad stuff that they thought this baby was dying in our arms. So police saw the report from doctors and said, 'Okay, you guys have a good day,' then walked away."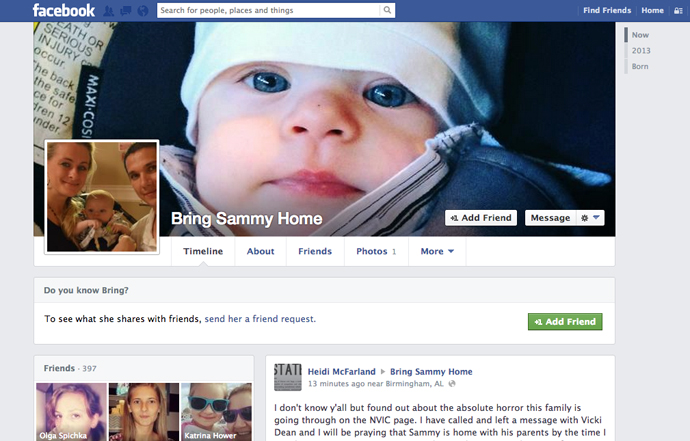 But just one day later, police showed up at the Nikolayevs' home with Child Protective Services (CPS) representatives. Alex met the authorities outside, wondering what multiple squad cars were doing at his house. 
"I was pushed against the building, smacked down," Alex said. "I said, 'Am I being placed under arrest?' He smacked me to the ground and yelled out 'I think I got the keys to the house!'" 
Alex later told reporters, "It doesn't seem like parents have any rights whatsoever." 
During the commotion in the driveway Anna had set up a camera pointing at the door. At least four police officers, who did not have a warrant, are shown on film barging into the home followed by CPS workers demanding Sammy. 
"I'm going to grab your baby, and don't resist, and don't fight me, okay?" one policeman can be heard telling Anna. 
Explanations have been hard to come by. Law enforcement referred media requests to CPS, who refused to offer a definitive statement other than claiming Sammy was taken because of "severe neglect," a vague definition the Nikolayevs have denied. 
"We conduct a risk assessment of the child's safety and rely heavily on the direction of health care providers," CPS said. 
The Nikolayevs and their attorney, Joe Weinberger, expressed disbelief that Sammy was still in the hospital without their consent during an interview with the ABC affiliate. 
"It's absolutely amazing to me how a government can reach out and snatch a child after a doctor said there's not an issue," Weinberger said. "As we've seen, there is no emergency situation in this case...I can't imagine having my baby ripped from my arms."
Attorney Weinberger provided RT viewers with more details into the case, saying that the entire case against the Nikolayev family was "manufactured."

"They were provided with medical evidence that said that the baby was fine to be taken home and despite this, they manufactured an excuse to take this baby away," Weinberger said

The initial physician who examined the child, Weinberger believes, is partly responsible for the situation.

"I think what it comes down to is that parents didn't appreciate the opinion of the doctor in a hospital and wanted to seek a second opinion," attorney said.

But the lawyer also admits that the parents are partly responsible for the CPS course of action.

"The mistake that they made was without signing out the child, they left the hospital and went to a different hospital and in my opinion what they did upset the initial physician and he decided to make a call to the Child Protective Services and say that there's a child who is in imminent danger of death. What he did not know at that time was that they had gone to a second hospital and a different doctor said- no, it is not an issue."

A court hearing is scheduled for Monday, April 29.
You can share this story on social media: