Teen kept from family for over 1 year asks Mass. govt to let her go home (VIDEO)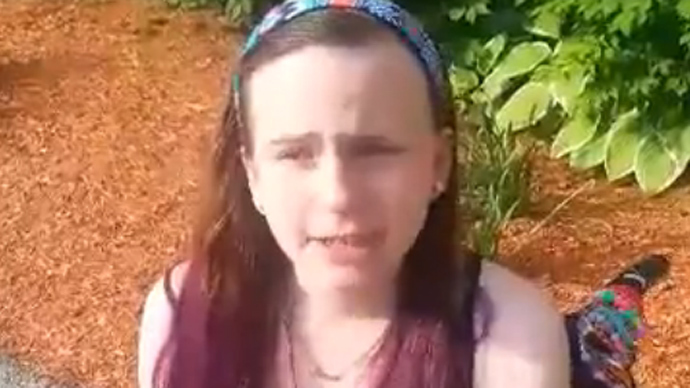 Justina Pelletier, a teenager from Connecticut, has been kept from her family by the Massachusetts government for 16 months as a battle raged over care for the ill girl. Now she may finally be able to go home.
Justina's family posted a video of her pleas to return to Connecticut. "All I want is to be with my family and my friends back home right now. ... I need to be home with my family. Please let me go home right now," the 16-year-old said from a wheelchair.
"Through the entire 16 months of this tragedy, the one person we've not heard from publicly is Justina herself. Now we can see her in her own words asking Judge [Johnston] and Governor Patrick for her release," Rev. Patrick Mahoney, a spokesman for the Pelletier family, said in a statement.
Justina's case gained national prominence in the US over issues of medical child abuse - a syndrome in which parents fake illnesses in children to gain attention - and parental rights, the Boston Globe reported.
Justina's parents say their daughter suffers from mitochondrial disorder, a rare genetic illness that can cause severe fatigue and intestinal issues. She was being treated by Mark Korson, a metabolic disorders specialist at Tufts Medical Center outside Boston, Mass. She had been a patient there for several years when Dr. Korson told her parents to take Justina to a gastroenterologist at Boston Children's Hospital in February 2013, Slate reported.
But Justina never saw the gastroenterologist, and she never returned home.
Doctors at Children's concluded her difficulty walking and intestinal problems were due to psychological issues. They diagnosed her with somatic symptom disorder, a psychiatric condition akin to hypochondria, according to Slate. They filed allegations of suspected child medical abuse, and the Massachusetts Department of Children and Families was granted permanent legal custody of Justina in March, despite protests from her family and her doctor at Tufts. Judge Joseph Johnston sided with DCF, saying that the agency had proved during closed-door juvenile court hearings that "the Pelletiers were unfit to handle their child's complex needs and should not be restored custody of their child," the Boston Globe reported at the time.
Justina spent a year in a locked psychiatric ward before being moved to a residential facility two hours from her parents' home in Hartford, Conn. The family was allowed weekly supervised visits during that time, ABC News reported.
Just before the commonwealth was granted permanent custody of Justina in March, Johnston ruled that she would get treatment with Dr. Korson and her original team of doctors at Tufts.
"We are exasperated and exhausted," Lou Pelletier said to ABC News at the time. "These are false medical abuse charges against our family for supposed unnecessary surgery, going to some of the top doctors in the country, medically verified and insurance approved. I should be happy about the this latest victory, but I am not."
When he granted Massachusetts permanent custody of the girl, Johnston wrote that the Pelletiers had called Boston Children's personnel Nazis "and claimed the hospital was punishing and killing Justina. Efforts by hospital clinicians to work with the parents were futile and never went anywhere," according to the Boston Globe.
Later that month, Johnston wrote, "There has not been any progress by the parents. Rather, the parents . . . continue to engage in very concerning conduct that does not give this court any confidence they will comply with conditions of custody."
At the beginning of May, the Massachusetts Department of Health and Human Services created a reunification plan for the Pelletier family, which would allow Justina to return home to her parents Lou and Linda, but where DCF would retain custody of the girl, TheBlaze reported at the time. A week later, she was transferred to a therapeutic education center in Connecticut.
The conditions laid out by the commonwealth were: Attend visits with their daughter at the center in her home state, follow through with the medical care plan created by Dr. Korson and the Tufts team, participate in family therapy and meet with DCF to review their progress.
"We are confident that we have found the right pathway for Justina to return home as soon as possible so she can continue her strong recovery in Connecticut," Massachusetts HHS Secretary John Polanowic wrote in a letter to the Massachusetts House of Representatives Minority Leader Brad Jones. "This is an important step forward in an extremely complex situation. We all want Justina to return home soon, and this plan provides a roadmap to make that happen."
Over the weekend, Justina was allowed a brief visit home to attend her sister's dance recital, which is when the family made the video. DCF filed a motion last week to reconsider and dismiss the charges against the Pelletiers, TheBlaze reported.
"We are pleased that the family has engaged around the reunification plan and we have filed papers in court to support our shared goal of bringing Justina home," Alec Loftus, a spokesman for the state's Health and Human Services department, said in an emailed statement.
The family hopes that Justina will be home in time for Father's Day on Sunday. The Pelletiers have not taken any further legal steps against the commonwealth of Massachusetts, but "one would expect the Pelletiers to use every recourse to hold government accountable to ensure this never happens again," Mahoney told TheBlaze.