FAA mulls granting Hollywood studios a license to drone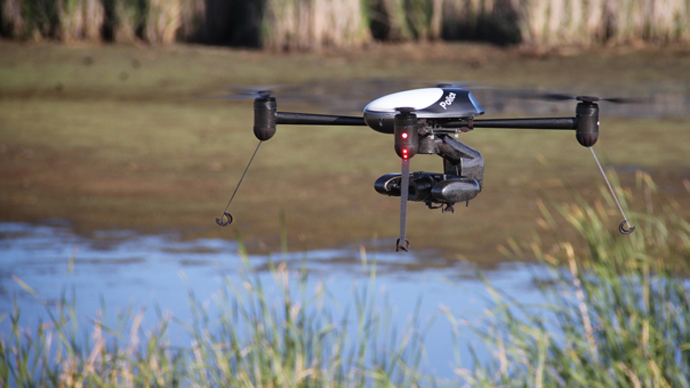 American aviation officials announced Monday that for the first time ever, they are considering giving the television and movie industry licenses to use unmanned aerial vehicles when filming shows and movies.
The Federal Aviation Administration said in a statement that there are a number of potential benefits to granting some image and video production companies exemptions from FAA rules that prevent commercial drone use. The Motion Picture Association of America (MPAA), the chief trade association lobbying on Hollywood's behalf, is the primary group pressuring the FAA to relax its standards, Reuters reported.
"Unmanned aircraft systems offer the motion picture and television industry an innovative and safer option for filming," wrote Neil Fried, the MPAA's senior vice president of global policy and external affairs. "This new tool for storytellers will allow for creative and exciting aerial shots and is the latest in a myriad of new technologies being used by our industry to further enhance the viewer experience."
While the notion raises obvious privacy concerns, advocates say the plan could help keep massive film productions in the US (the 'Lord of the Rings' trilogy used drones extensively while filming in New Zealand, for instance). Drones would also be a much greener option for film directors who shoot take after take of the same scene from a helicopter. Such a switch could also save lives, with 33 American movie and TV workers having been killed in helicopter filming accidents around the world since 1980.
Film productions have been lumped in with media companies as organizations that are prohibited from flying drones for commercial purposes. Untold scores of drones currently buzz over the US already, though, with hobbyists and businesses alike skirting the FAA regulation for any number of reasons, whether it be surveillance, farming, or film.
Individuals and members of the business community have accused the FAA of dragging its feet when it comes to updating the existing drone policy (a violation of which can result in a $10,000 fine). The regulatory agency has issued exemptions in the past, most notably to municipal law enforcement agencies, and maintained to Reuters that it is "working aggressively to ensure the safe integration of unmanned aircraft systems into the national airspace."
One of the FAA's primary concerns, officials claim, is the impact that the drones would have on privacy in America. In its own petition to the FAA, perhaps in an attempt to ease those fears, the aerial photo and video production company Snaproll Media addressed how it would respect privacy.
"All flights will occur over private or controlled access property with the property owner's prior consent and knowledge. Filming will be of people who have also consented to being filmed or otherwise have agreed to be in the area where filming will take place," the petition said.
"Set forth below are pictures of aerial filming conducted in both day and night environment, as flown today in highly populated and/or urban areas, with turbine powered helicopters. The grant of this exemption request will provide improved safety in both day and night operations."
The petition goes on to state that Snaproll will only employ an "FAA license airman with at least a private pilot's certificate and third class medical."
Even if the FAA does grant broad company-wide permissions, those companies must still be authorized for individual productions, according to The Verge.
Yet the question over whether to ease the process for Hollywood is a microcosm of the larger debate about what drones can and cannot be used for.
A growing number observers have called for individual drone licenses that would allow hobbyists who now have no choice but to operate their craft illegally to legitimize their flight plans. The argument goes both ways, though, with a small town in Colorado only recently deciding after a long debate that citizens would not, in fact, be allowed to apply for permits that would give them permission to shoot drones out of the sky.
"Whereas many Western communities in rural America provide monetary incentives (bounties) for killing predators that are injurious to man and his interests, the town of Deer Trail likewise establishes hunting licenses and bounties for the killing of unmanned aerial vehicles," the tongue-in-cheek proposal stated, "in keeping with the Western tradition of sovereignty and freedom."
You can share this story on social media: