Cliven Bundy leaves GOP, joins the Independent American Party
With the Republican embrace of Cliven Bundy softening as soon as he offered his controversial views on the state of African Americans in the US, the Nevada rancher has decided to switch his allegiances.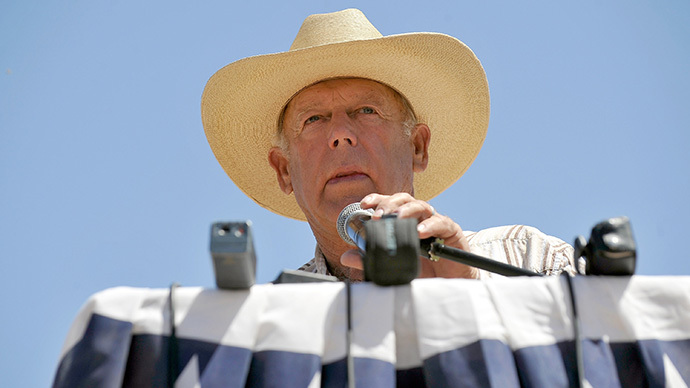 According to the Associated Press, Bundy officially left the Republican Party last Friday, when both he and his wife registered as voters with the Independent American Party. The switch took place at an event held by his new political group, which was organized to honor "his courage in standing up for state sovereignty."
Asked why he was changing parties, the Elko Daily quoted Bundy saying, "Well, I haven't got much good out of the Democrats and Republicans so I decided to try a new one."
As RT has reported in the past, over the last two months Bundy has been involved in a growing dispute with the federal government over land rights. The Bureau of Land Management claims it's been over 20 years since the rancher paid the fees associated with allowing his cattle to graze on public land, meaning he's amassed an overdue bill of roughly $1 million.
Bundy, however, does not recognize federal authority over public land, and argues that he doesn't owe the government anything for using what his family had operated on since the late 1800s.
The situation came to a head when BLM agents attempted to seize Bundy's cattle, prompting the rancher's supporters – which included armed militia members – to come to his defense and initiate an armed standoff with federal agents. The cattle were eventually returned in order avoid escalation.
Bundy was praised by some Republicans for standing up to what they saw as government overreach, but the goodwill faded quickly when the rancher wondered aloud to a reporter whether African Americans were better off as slaves.
His new affiliation with the Independent American Party is noteworthy considering the group's mission, which in part calls on members to reverse laws, regulations, and treaties that are "unconstitutional or an offense to God and our Founding Fathers." It also seeks to "return the control of government back to the people."
As noted by Raw Story, the IAP has endorsed David Lory Van Der Beek in his race to be Nevada's lieutenant governor. Van Der Beek believes "terrorist attacks and mass shootings are government-backed false flag organizations," and staged a faux, videotaped debate with a cardboard cutout of Nevada's Republican Governor Brian Sandoval, in which he defended Bundy's claim that he's not beholden to the federal government.
Meanwhile, Republican congressional candidate Niger Innis, son of civil rights leader Roy Innis, also defended Bundy at Friday's event, saying, "I don't consider Cliven racist at all."
"[Critics] will try to distract, with the firestorm that Cliven started by using the R-word," he added, according to Buzzfeed. "The racism word. I can only tell you my experience with the Bundys. Having eaten with them and broken bread with them, and I don't consider Cliven or his wonderful family racist at all. Period, end of story."
You can share this story on social media: