Heavily-armed feds surround Nevada Bundy ranch, confiscate cattle (VIDEO)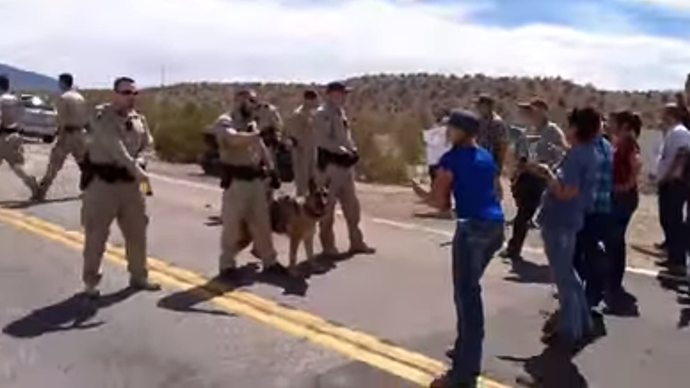 After 20 years of battling the US government for use of his family's land, a Nevada rancher's "one-man range war" may soon end. The family says heavily-armed federal agents have surrounded the ranch as "trespass cattle" are removed from the disputed land.
Cliven Bundy – the "last rancher in Clark County, Nevada" – has since 1993 refused to pay fees to the federal government for the right to raise cattle on land his family has ranched since the 1870s, according to the Washington Free Beacon.
After years of legal wrangling, the Bureau of Land Management (BLM) attained a federal court order to have Bundy's nearly 1,000 head of cattle removed, according to the family.
Bundy says the government is taking the task seriously, arming the agents with military-style weaponry.
"They're carrying the same things a soldier would," he told the Free Beacon. "Automatic weapons, sniper rifles, top communication, top surveillance equipment, lots of vehicles. It's heavy soldier type equipment."
Carol Bundy, Cliven's wife, said hundreds of armed BLM and FBI agents are set up around their property, as helicopters circle the area, and nearby roads remain off limits.
"We're surrounded," Carol Bundy said. "We're estimating that there are over 200 armed BLM, FBI. We've got surveillance cameras at our house, they're probably listening to me talk to you right now."
As of Monday, the government agents and their contractors have seized 234 of the 908 cattle. The removal will cost the federal government as much as US$3 million, the Free Beacon reported.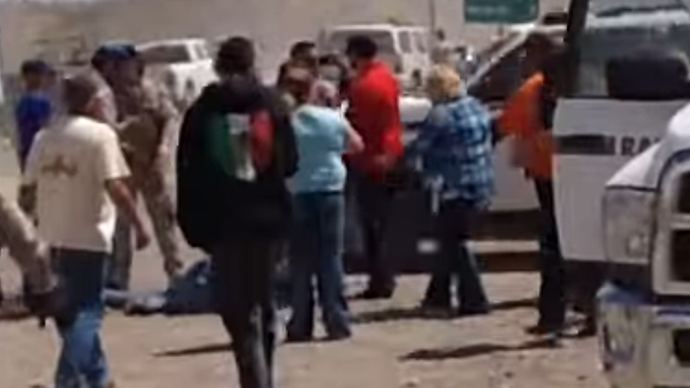 "The battle's been going on for 20 years," Cliven Bundy said. "What's happened the last two weeks, the United States government, the bureaus are getting this army together and they're going to get their job done and they're going to prove two things. They're going to prove they can do it, and they're gonna prove that they have unlimited power, and that they control the policing power over this public land. That's what they're trying to prove."
The family said their son, Dave Bundy, was arrested for taking photos of state road 170, which had been closed by BLM. Dave was aggressively apprehended by officials for "failure to comply with multiple requests by BLM law enforcement to leave the temporary closure area on public lands."
Carol Bundy said five agents took Dave and "threw him on the ground."
"One put his knee on his head, the other put his boot on his head and pushed him into the gravel," she said. "He's got quite a bruised head. Just bruised him up pretty good."
A National Park Service spokesperson denied that armed guards were confiscating cattle, though she did confirm "security" is present to keep contractors safe after they supposedly received threats.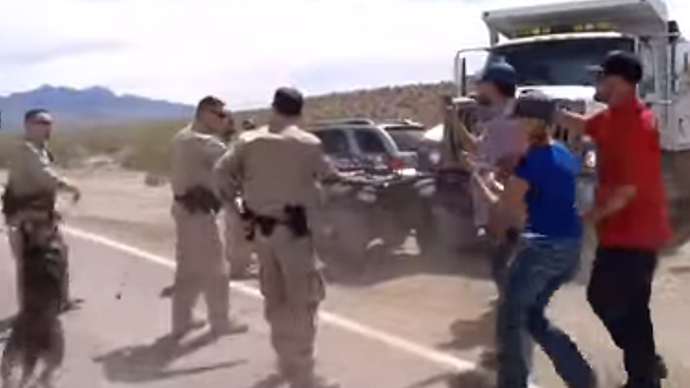 "Contractors are here and they are in place to round-up the cattle and to bring them to the impound area," Christie Vanover said. "As for security, there [is] security in place, but that is merely to protect the contractors."
BLM defends their actions in removing the "trespass cattle" as necessary since Bundy did not "voluntarily" move the cattle after refusing to pay back fees for use of the land.
In 1998, BLM designated 186,909 acres of the Gold Butte area, where the ranch is, as "critical" for the survival of the desert tortoise population. Bundy had lost his grazing permit in 1993 despite his family's long-time presence on the land.
BLM says Bundy owes around $1 million in fees, while the family contends that the sum is more like $300,000.
"I'm a producer," Cliven said. "I produce edible commodity from the desert forage, and all of these things are governed under state law. So, in other words, this type of government has eliminated all of our state law, eliminated our state sovereignty, and has took control over our public lands and even took control over our Clark County sheriff. They've taken the whole county over. The whole state, almost."
The Bundys said their appeals to local and state law enforcement and other authorities have proved futile. "This is just about power of the government," Carol said.
"Our sheriff says he just doesn't have authority, our governor says he doesn't have authority, and we're saying, why are we a state?" asked Carol.
In a further display of power, BLM has cordoned off "First Amendment Areas" as designated spots where demonstrators are allowed by BLM to gather and protest the action.
This aspect of the cattle removal has caught the attention of Nevada Gov. Brian Sandoval.
"Most disturbing to me is the BLM's establishment of a 'First Amendment Area' that tramples upon Nevadans' fundamental rights under the US Constitution," he said in a statement on Tuesday.
"To that end, I have advised the BLM that such conduct is offensive to me and countless others and that the 'First Amendment Area' should be dismantled immediately," he said. "No cow justifies the atmosphere of intimidation which currently exists or the limitation of constitutional rights that are sacred to all Nevadans. The BLM needs to reconsider its approach to this matter and act accordingly."
Sandoval added that his office had received other complaints about BLM, including road closings and "other disturbances."
You can share this story on social media: