Fatal shooting in back of police car prompts questions in Louisiana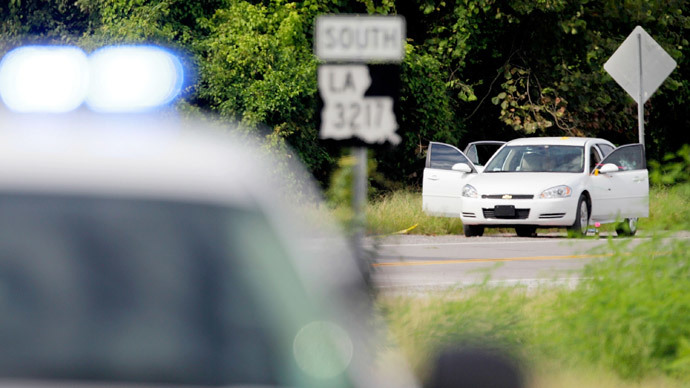 A Louisiana community is asking questions nearly a month after police said that a young man fatally shot himself in the back in the back of a patrol car. As the state police continue their investigation, though, the man's family is anxious for an answer.
Victor White III, 22, was apprehended by police in Iberia Parish on the night of Sunday March 2 because of their suspicion that he was involved in a fight nearby. Trooper Stephen Hammons told the Baton Rouge Advocate that deputies who searched White claimed to find illegal drugs on his person, at which point they handcuffed him and drove to the police station for processing.
Exactly what happened next is unclear. Harmons told local media outlets that White was uncooperative when it came time to enter the police car, was able to produce a weapon with his hands cuffed behind his back, and fired a single shot into his own back. The young man was then taken by ambulance to a local hospital and pronounced dead.
"We're investigating how he got the gun," Harmons said earlier this month. "It's too early in our investigation to comment further."
Sheriff Louis Ackal called on state police to launch an investigation into the matter, meaning the authorities are not permitted to comment publicly until the investigation is completed.
Victor White Sr. told Vice's Wilbert Cooper that, when he drove the two hours from his home to New Iberia, it was difficult to find an officer who would explain what had happened that Sunday night. He said the authorities initially refused to let him see Victor's body and, when he refused to leave without an answer, they had conditions.
"They told me I couldn't see his lower body. I could only see his face," the elder White told Vice. "It wasn't until I got back and looked on the state police's Facebook page that I found out what had happened to my son."
Community activists share Mr. White's skepticism. Reverend Raymond Brown, the president of National Action Now, announced that his organization is planning a rally that aims to pressure the authorities to put more light on the situation. A date for the demonstration has yet to be set.
"We expect the state police to drag their investigation on for about nine or 10 months – until they think the outrage about what happened to Victor White has died down – and then come back and pass the buck to another law enforcement agency or say they haven't found any evidence of wrongdoing," he told the Louisiana Weekly. "We don't expect the state police to do anything – we have no confidence in them at all."
Vice reported that, while the police were mostly quiet regarding the case, a Lieutenant Anthony Green would have disagreed with the Reverend's assertion saying, "The community is not really up in arms about this. I don't sense any large unrest."
Other civil rights groups have become involved, including the Lafayette Branch of the NAACP, the NAACP Louisiana Conference, and more. Margie Broussard, president of the Lafayette Branch of the NAACP, told the Advocate that the police may not have murdered White, but their descriptions of what happened were "far-fetched." She also said the group is raising money to conduct a second autopsy after New Iberia completes its own examination.
Either way, the family will continue to wait for more details, yet Keisha Davis, White's sister, told MadameNoire.com admitted it is tough to trust that the police missed a gun when they searched White.
"They have issued a statement that he shot himself but we know that is not true," she said. "We will not stop until justice is served."
You can share this story on social media: