Cliven Bundy responds to accusations of racism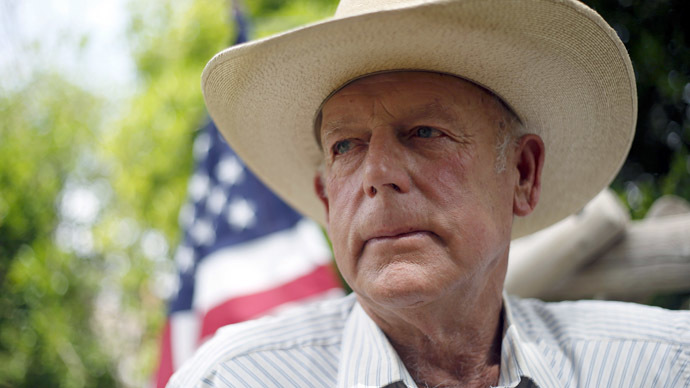 Nevada rancher Cliven Bundy defended comments he made regarding African Americans earlier this week, as his ongoing land rights feud with the federal government receded into the background over accusations that he is a racist.
Bundy has been praised by conservative politicians and right-leaning groups for taking a stand against what they see as overreach by the US government, which claims the rancher owes taxpayers $1 million in unpaid cattle grazing fees dating back to 1993. Bundy has refused to pay, saying he doesn't owe the government anything for operating on land his ancestors have used for more than a century.
As RT reported previously, this led to an armed standoff between hundreds of armed federal officials and Bundy's own supporters – some of which included armed militia members from multiple states. That standoff ultimately ended when government officials left in order to avoid a violent escalation.
In the midst of the media firestorm that followed this event, Bundy seemingly placed the land rights conflict on the backburner by questioning whether African Americans were better off as slaves in a New York Times report.
Bundy was originally quoted saying that under government subsidy, African Americans – whom he referred to as "Negroes" – "didn't have nothing to do."
"And because they were basically on government subsidy, so now what do they do?" he asked. "They abort their young children, they put their young men in jail, because they never learned how to pick cotton. And I've often wondered, are they better off as slaves, picking cotton and having a family life and doing things, or are they better off under government subsidy? They didn't get no more freedom. They got less freedom."
Bundy's comments were quickly seized upon as evidence that the rancher was a racist. Politicians that had previously come out in support of his cause – Sen. Rand Paul (R-Ky.) and Sen. Dean Heller (R-Nev.) – quickly distanced themselves from the remarks.
"His remarks on race are offensive, and I wholeheartedly disagree with him," Paul said in a statement.
Heller, meanwhile, said he "completely disagrees with Mr. Bundy's appalling and racist statements, and condemns them in the most strenuous way."
On Thursday, Bundy defended his comments.
"I'm not saying that I thought they should be slaves, or – I'm not even saying they was better off… I'm wondering if they're better off," he said at a press conference recorded by RT's video news agency Ruptly. "Are they slaves to charities and government subsidized homes? And are they slaves when their daughters are having abortions and their sons are in the prisons? This thought goes back a long time."
Speaking with CNN, meanwhile, Bundy invoked civil rights icons Rosa Parks and Martin Luther King Jr., saying that while he might have "sinned," his freedom of expression should be tolerated.
"Maybe I sinned, maybe I need to ask forgiveness, and maybe I don't know what I actually said," Bundy said. "But when you talk about prejudice, we're talking about not being able to exercise what we think and our feelings — we don't have freedom to say what we want. If I say 'Negro' or 'black boy' or 'slave' — I'm not — if those people cannot take those kinda words and not be offensive, then Martin Luther King hasn't got his job done yet."
While Bundy himself attempts to explain his comments, his supporters have accused the New York Times of cherry-picking Bundy's words to make him seem more offensive than he was. A video has surfaced with Bundy's comments in their entirety. Before he wonders about slavery, the rancher can be heard saying Americans "don't want to go back" to the days where people did not have freedom.
"I was in the WATTS riot, I seen the beginning fire and I seen the last fire. What I seen is civil disturbance. People are not happy, people is thinking they did not have their freedom; they didn't have these things, and they didn't have them.
"We've progressed quite a bit from that day until now, and sure don't want to go back; we sure don't want the colored people to go back to that point; we sure don't want the Mexican people to go back to that point; and we can make a difference right now by taking care of some of these bureaucracies, and do it in a peaceful way."
Following his remarks on slavery, Bundy offered his thoughts on immigration and the Hispanic community, seemingly suggesting they should not be kicked out of the United States.
"Now, let me talk about the Spanish people. You know I understand that they come over here against our constitution and cross our borders. But they're here and they're people – and I've worked side-by-side a lot of them.
"Don't tell me they don't work, and don't tell me they don't pay taxes. And don't tell me they don't have better family structure than most of us white people. When you see those Mexican families, they're together, they picnic together, they're spending their time together, and I'll tell you in my way of thinking they're awful nice people.
"And we need to have those people join us and be with us…. not, not come to our party."
You can share this story on social media: