New York jury convicts Muslim cleric on 11 counts of terrorism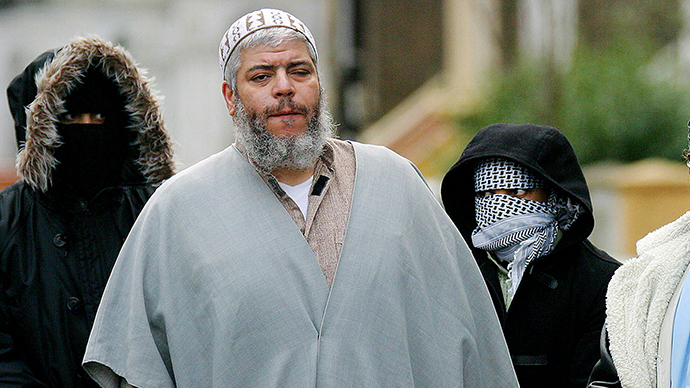 A jury found Egyptian-born cleric Abu Hamza Al-Masri guilty of 11 terrorism related charges Monday afternoon in a New York City courtroom, paving the way for a potential life sentence.
The 12-person jury deliberated for only just as many hours, Reuters reported, before finding the 56-year-old former London imam guilty of all 11 counts he faced.
According to a New York Times report from 2012 shortly after he was extradited from the UK, the cleric told the court he wanted to be addressed by his birth name, Mostafa Kamel Mostafa.
The US had successfully sought his extradition for eight years after he was indicted in the US in 2004 for various terrorism related charges. Until then, Mostafa was serving time in Britain after being accused of inciting violence there, where he had gained notoriety for fiery sermons delivered as a at London's Finsbury Park mosque. Combined with his indistinguishable appearance — Mostafa is missing one-eye and both hands—the cleric had no problem making waves on both sides of the pond.
When Mostafa was finally brought to New York, prosecutors began preparing for a high-profile terrorism case in which they hoped to show that the cleric had helped plan the 1998 kidnapping of American tourists and others in Yemen, and tried to help set up a terrorist training camp in Oregon; Mostafa denied the allegations up until this week's conviction.
On Monday, CNN reported that Mostafa accused prosecutors of using "pay-as-you-go witnesses" and a "cut-and-paste" approach in court in order to ensure a guilty verdict.
"The deliberations confirmed our fears they would focus on words and ideas rather than the evidence," defense attorney Jeremy Schneider said after the verdict was announced.
"This is what we feared, that there would be no deliberations at all, essentially," co-counsel Joshua Dratel told Reuters. "Beliefs are not a crime."
Nevertheless, the United States attorney who prosecuted the accused terrorist celebrated this week's conviction.
"The defendant stands convicted, not for what he said, but for what he did. Abu Hamza was not just a preacher of faith, but a trainer of terrorists," Manhattan US Attorney Preet Bharara said in a statement. "Once again our civilian system of justice has proven itself up to the task of trying an accused terrorist and arriving at a fair and just and swift result. As we have seen in the Manhattan federal courthouse in trial after trial – of Ahmed Ghailani, of Suleiman Abu Ghayth and now of Abu Hamza – these trials have been difficult, but they have been fair and open and prompt. These trials demonstrate that in an American civilian courtroom, the American people and all the victims of terrorism can be vindicated without sacrificing our principles. And that is one reason our civilian court system is admired the world over."
Mostafa faces a maximum of life in prison when he is sentenced later this year in September.
You can share this story on social media: