UK extradites hate preacher Hamza, four other terror suspects to US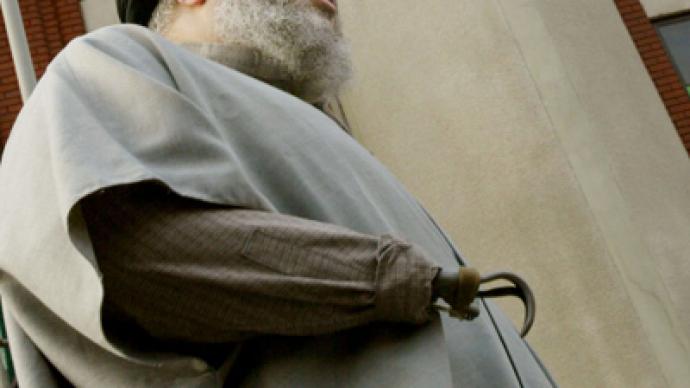 Abu Hamza, the suspected Egyptian militant notorious for his prosthetic hook and violent preaching in the UK, is to be booted out of Britain as his final appeal against extradition has failed.
Hamza and four other alleged terrorists are to be extradited to the US, as judges from the European Court of Human Rights in Strasbourg rejected their final appeals.Hamza, whose hate-filled sermons outside Finsbury Park Mosque in North London earned him national and global notoriety, is wanted by authorities in the US on a multitude of terror-related charges. He has been accused of plotting to set up a Jihadi training camp in Oregon and for advocating violent jihad in Afghanistan in 2001.Hamza is also wanted on 11 other counts of criminal conduct related to the taking of 16 hostages in Yemen in 1998. The ruling brings to an end a long legal saga which has cost the UK tax payer more than £1 million and lasted more than eight years. The five men had argued that the jail terms of up to 50 years in the US without parole were a breach of their human rights, as the United States is not a signatory of the European Convention on Human Rights. In April the court rejected this argument and now a final appeal to the grand chamber in Strasbourg has also been thrown out. With no more legal options left in Europe, officials in Whitehall said he would be on a plane to the US "as soon as possible". Also facing extradition are Khalid Al-Fawwaz – one of the US's most wanted terrorists suspects –as well as Babar Ahmad and Talha Ahsan, who are accused of conspiracy to commit terrorist atrocities overseas and supporting terrorists groups. Al-Fawaz, who was allegedly a close associate of Osama Bin Laden, was arrested in connection with bomb attacks on two US embassies in East Africa which killed more than 260 people in 1998. The total cost of extraditing the four men is estimated to be £4 million. Hamza was first arrested at the request of the US in 2004 but the extradition was halted when UK authorities decided to charge him on allegations relating to hate sermons. He was convicted and jailed for seven years in February 2006.
You can share this story on social media: