4 hospitals turn away patient with beach ball-sized tumor due to absence of insurance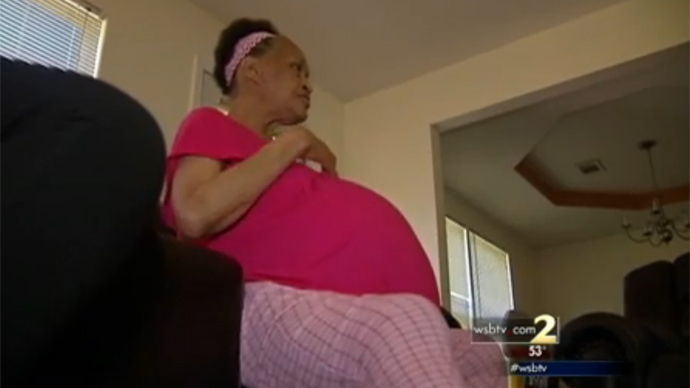 Life without health insurance has become extremely painful for one Georgia woman, who recently described how four different hospitals declined to treat her for a tumor that had grown to the size of a beach ball.
According to WSB-TV in Atlanta, Doris Lewis of Newton County said she simply thought she was gaining weight when a tumor in her body began growing. As it got bigger and bigger, however, it became clear that something was wrong.
In just two months, the 59-year-old woman's stomach ballooned to the size of a beach ball.
"It's getting bigger every day," Lewis told WSB-TV. "I can feel it on my body. My heart hurts a little bit."
When Lewis made the rounds at multiple hospitals, she said doctors were shocked at the size of the benign but painful tumor, which was found to be wrapped around her ovaries
"Some of the guys looked at me and said, 'You got a tumor in there that is so big it's about to pop,'" she recalled.
Despite the surprised looks on the doctors' faces, though, they all turned her away when the topic of surgery came up. Since Lewis did not have health insurance, they would not perform the operation, leaving her daughter to express concern over her mother's fate.
"I don't know how long that she has to be able to live with this thing in her," Sarina Lewis said to WSB.
According to Lewis, her health coverage was lost in the wake of her husband's death years ago. Before the tumor began growing, though, she did not feel that seeking out insurance was a priority. Lewis added she's been trying to get insurance again but has been unsuccessful in her attempts. When Lewis tried to purchase coverage under the Affordable Care Act, she was told the deadline had passed.

The situation came to a head recently when the tumor was causing Lewis so much pain she had to call 911. She was taken to Emory University Hospital, where a doctor told her she'd finally be able to get surgery done.
"He said, 'You will see a doctor – with or without money,'" Lewis added.
With the operation scheduled for June 10, Lewis – also a grandmother – said she's looking forward to losing a lot of weight and getting back to living a life with far less pain.
"It would feel great, now, if I could get it out today. Right now," she said. "It would be a blessing."
You can share this story on social media: