US may review ban on transgender people serving in armed forces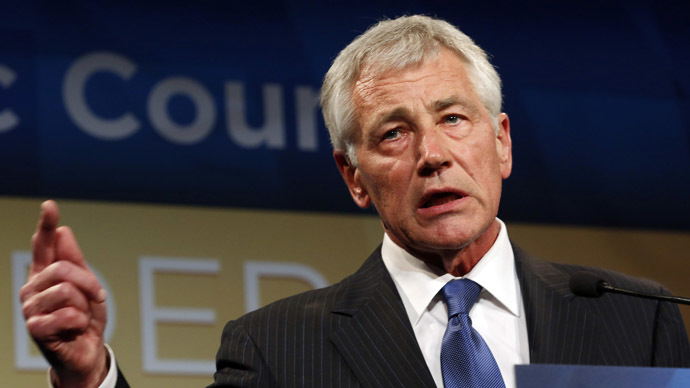 US Defense Secretary Chuck Hagel says he is open about looking into the American military's ban on not allowing transgender people to serve in the armed forces adding that, "every qualified American" should have an opportunity to serve.
The US military has come under pressure for its continued insistence that transgender people are not allowed to be in the armed forces. President Barack Obama has made lesbian, gay, bisexual and transgender rights one of his major priorities since being elected.
Relations have improved since Obama abolished the military's policy of 'don't ask, don't tell', which had stopped gay men and women from serving openly. However, this does not apply to transgender individuals, who want to serve in the army, navy or air force.
At present, the Department of Defense has a policy of rejecting anyone with a "history of major abnormalities or defects of the genitalia including but not limited to change of sex", and categorizes anyone in that position as having a "psychosexual condition".
Appearing on ABC, Hagel mentioned that it is likely to be a slow process and was unclear whether there would be any change at all adding, "The issue of transgender is a bit more complicated because it has a medical component to it," he mentioned. "These issues require medical attention. Austere locations where we put our men and women in many cases don't always provide that kind of opportunity," the Defense Secretary continued.
He did admit that "I'm open to those assessments, because … every qualified American who wants to serve our country should have an opportunity if they fit the qualifications and can do it," which would appear to give transgender people hope that they could one day serve in the armed forces.
Hagel's stance has been welcomed by the National Centre for Transgender Equality, which is based in Washington, who said Hagel's willingness to review the policy was "overdue but very welcome," as it called the ban "arbitrary and archaic."
They mentioned that there are thousands of transgender people who are currently serving in the US military, "but are forced to hide who they are or risk losing their careers."
"If the secretary were able to meet and talk with the trans service members I've met, he'd understand the answer is self-evident," Mara Keisling, the group's executive director, said in a statement. "These are amazing people who serve even though they must hide a basic part of who they are."
The issue of transgender people shot to prominence following the case of Chelsea Manning, who was responsible for releasing a number of sensitive documents to the internet site WikiLeaks.
Manning, who used to be known as Bradley is currently serving a 35 year prison service. During last summer's trial, two Army behavior specialists said that they've diagnosed her with gender dysphoria, or gender identity disorder, which are traditionally grounds for discharge from the Army.
Military officials at the Ft. Leavenworth prison where she is being held said they would not provide her with hormone treatment, which attracted the ire of transgender advocates and other activists.