Pvt. Manning petitions for formal name change
Published time: 20 Mar, 2014 17:33
Edited time: 20 Mar, 2014 17:39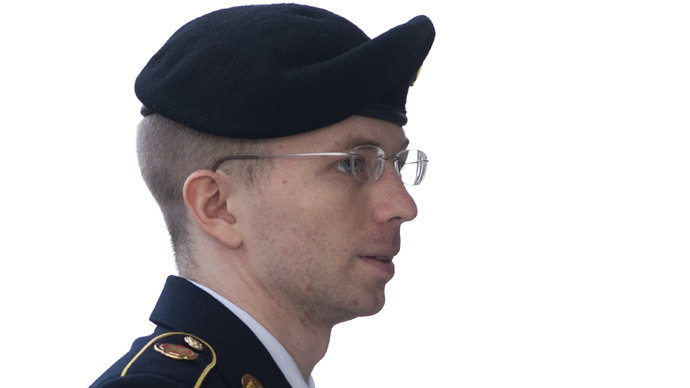 Army Private Chelsea Manning – previously tried and convicted as Bradley Manning for handing over secret US documents to WikiLeaks – is officially asking a Kansas court for a legal name change.
Filed in January, Manning's petition has earned her a hearing on the matter scheduled for April 23 in Leavenworth County District Court, according to the Associated Press. If successful, her legal name will no longer be Bradley Edward Manning, but rather Chelsea Elizabeth Manning.
Shortly after being sentenced last year for giving away government secrets, Manning announced that because she identifies as a woman, she wanted to be known as Chelsea.
In a statement made on Wednesday, the Private Manning Support Network announced it would be changing its name to the Chelsea Manning Support Network.
Now serving a 35-year prison term, Manning is also asking to receive hormone replacement therapy (HRT) while in prison in order to treat her gender dysphoria – a disorder used to describe an individual's struggle between their physical gender and the one they identify with.
As noted by AP, although civilian prisons are required to provide such treatment to inmates if necessary, military facilities aren't, due to a policy that forbids transgender individuals from serving. Since Manning is in jail, she cannot be discharged until after she's released.
According to Manning's Support Network, the group stands ready to hash this issue out in the courts. The website stated that the American Civil Liberties Union will help Manning's attorney, David Coombs, in his efforts to obtain HRT treatment. The group noted that while Manning wants to receive HRT, she does not want to be transferred to another prison.
"There is already precedent in federal courts establishing this right for transgender prisoners," the network wrote. "We are confident that with adequate public and legal pressure, the military court and military prison system will follow suit."
Sentenced in 2013, Manning was found not guilty of "aiding the enemy," but was convicted of theft and of violating the Espionage Act by leaking roughly 700,000 classified documents to the WikiLeaks Foundation.