Florida man arrested for filming another arrest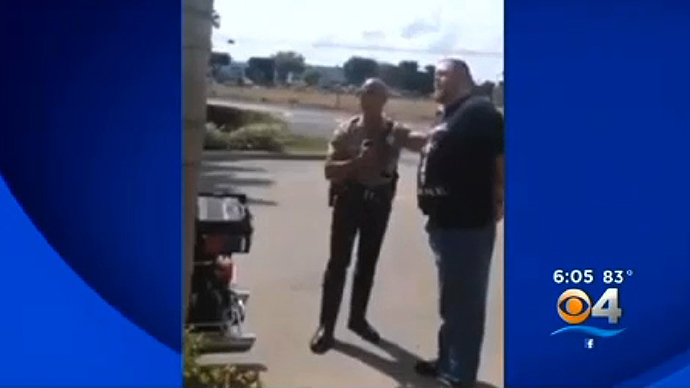 A Florida man is facing criminal charges after an officer arrested him – all for taping the officer as he attempted to detain another individual.
The incident began on St. Patrick's Day, when Miami-Dade Officer Michael Valdez arrived at a store in Cutler Bay in order to arrest the owner on misdemeanor traffic charges. Freelance disc jockey Lazaro Estrada was performing a promotional event at the time Valdez arrived, and started recording the arrest on his smartphone.
According to CBS Miami, Estrada said he started taping the incident when the officer threw the handcuffed owner down onto the sidewalk. Valdez can be seen signaling to Estrada to move away, and the disc jockey can be seen stepping back into the store, though he continues recording.
"I backed off into the building and I stayed behind the glass doors," Estrada said to CBS 4. "Obviously, all I had was my phone in my hands in clear sight…and he only told me once. I did what he told me."
When more officers arrived at the scene, they told Estrada they needed his information. Estrada asked what he did wrong, and later Valdez criticized Estrada for not listening to his orders.
"The guy's armed, three times my size, I'm telling you to back off," Valdez told Estrada. When the officer says Estrada will be arrested, the disc jockey asks what for and the officer's reply can't really be heard.
Ultiamtely, Valdez charged Estrada with misdemeanors: obstruction of justice and resisting arrest without violence.
According to CBS Miami, the police report on the incident states Valdez gave "verbal commands to back away and he refused to do so." Valdez also wrote that he "felt threatened" by Estrada's presence.
Lawyers for Estrada -- Frank Gaviria and Jonathan Perazzo – claim their client did nothing wrong.
"At no point did he interfere, impede or obstruct the officer in the performance of his duties," Gaviria told CBS 4. "The video clearly shows Mr. Estrada was a very safe distance away from the officer."
"Just like police officers have their dash cams, private citizens have their cell phones. There's no difference," Perazzo added.
This isn't the first time police have reacted to being filmed with arrests. Earlier this year, a Massachusetts man was detained and charged with violating the state's wiretapping rules when he took out his cell phone and recorded an officer cursing while he worked a street detail. The officer stated the resident was "secretly audio taping," but the man claimed his phone was out in full view.
In a particularly dramatic case last year, California police arrested a man for allegedly disturbing a crime scene with loud music and video recording them. As they attempted to arrest the man, his dog jumped out from the car and was shot dead at the scene.
Meanwhile, police in Dallas, Texas, came out earlier this month and asked citizens to stop filming police, since the behavior was creating "major safety issues." As RT reported, police argue that it's not clear who is following them many times and why they are filming their actions.
A 2012 ruling by the Supreme Court, however, upheld the citizen's right to record on-duty police officers.
You can share this story on social media: