​US intel employees face new consequences for speaking to media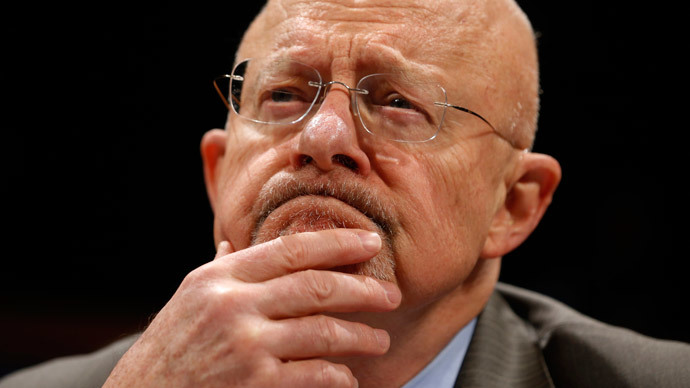 Members of the United States intelligence community must now operate within the boundaries of a new media policy, as contact with a journalist without prior approval can now be considered a fireable offense, their boss said on Sunday.
Director of National Intelligence James Clapper signed on Sunday a directive which outlines new restrictions that intelligence analysts must consider before speaking to the press about both classified and unclassified information.
"No substantive information should be provided to the media regarding covered matters in the case of unplanned or unintentional contacts," the directive states, defining "covered matters" as "intelligence-related information, including intelligence sources, methods, activities, and judgments."
Any contact between intelligence employees and media figures on such issues "must be authorized by their IC [intelligence community] element," such as the agency chief or another official. "Unplanned or unintentional contact with the media" also must be filed with a relevant public affairs office.
Employees who offer an unauthorized disclosure of classified information to a journalist are open to criminal prosecution, according to the new rules. Even if there is no classified information passed in the process of contact, violating the policy "at a minimum...will be handled in the same manner as a security violation."
"IC [intelligence community] employees who are found to be in violation of this IC policy may be subject to administrative actions that may include revocation of security clearance or termination of employment."
But who is a member of "the media," according to the directive? "Any person...engaged in the collection, production, or dissemination to the public of information in any form related to topics of national security" is sufficient.
The new policy is intended "to mitigate risks of unauthorized disclosures of intelligence-related matters that may result from such contacts."
The guidelines come about 10 months after the initial publication of leaked documents, supplied by former National Security Agency contractor Edward Snowden, which revealed the NSA's global spying operations.
Shawn Turner, a spokesman for Clapper, said the rules are a consolidation of existing policies within various intelligence agencies, intended to prove the intelligence community can "police ourselves," the Guardian reported.
Turner denied the guidelines were connected to the Snowden leaks.
Essentially, the new rules mean that any information on US intelligence given to reporters will be authorized from above, observers say, further straining the relationship between members of the press and their government sources.
"The new policy is likely to be effective in reducing the quality, independence and critical content of intelligence-related information that is available to the press and the public,"wrote Stephen Aftergood, an intelligence analyst at the Federation of American Scientists.
Turner disputed the view that the directive would significantly curb intelligence journalism.
That assertion "would only have merit if this policy required a practice that's not already in place," he said.
The directive is not as clear on what happens with an authorized disclosure of classified information, a tactic often used by high-ranking officials to yield an agreeable or positive story in the press.
The policy does not alter any current guidelines regarding internal government whistleblowers who speak up about waste, fraud, or abuse. The new rules state that "appropriate" contact with the press is "encouraged."
You can share this story on social media: