​NSA-leak reporters Greenwald, Poitras to return to US for award despite 'threatening climate'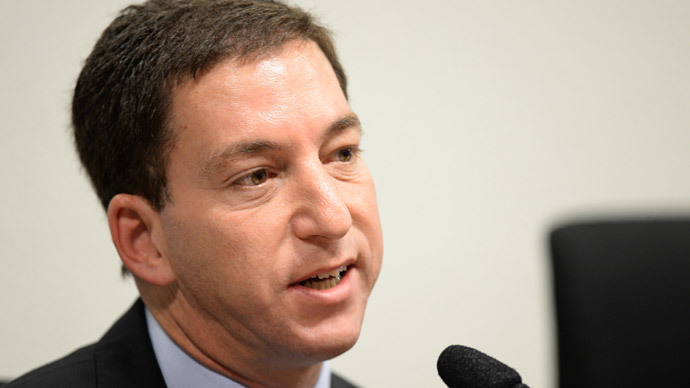 Glenn Greenwald and Laura Poitras, American journalists living abroad who broke the NSA leak stories supplied by classified documents from Edward Snowden, will return to the United States on Friday to accept a Polk Award for their reporting.
The pair – entering the US for the first time since they began publishing leaks that exposed the National Security Agency's vast, global surveillance regime – will attend the Polk ceremony in New York City, where they will share the prestigious journalism award with Greenwald's former colleague at The Guardian, Ewen MacAskill, and Washington Post reporter Barton Gellman.
Greenwald, an American citizen who lives in Brazil, told The Huffington Post that he's excited to return to the US because "certain factions in the US government have deliberately intensified the threatening climate for journalists."
Greenwald said his legal counsel has not received word from the US that the journalist – now leading billionaire eBay-founder Pierre Omidyar's First Look Media – would face charges upon return, or if he is tied to a grand jury investigation regarding the NSA leaks.
"It's just the principle that I shouldn't allow those tactics to stop me from returning to my own country," Greenwald said, suggesting that the Obama administration and congressional leaders have deliberately indicated that the leaks are fodder for criminal charges as a way to intimidate investigative journalism.
Since the Snowden leaks were first published by The Guardian and the Washington Post in June of last year, several top government officials and members of Congress have made aggressive statements aimed at Greenwald and his associates.
Director of National Intelligence James Clapper has called journalists reporting on documents supplied by former NSA contractor Snowden as "accomplices." In February, chairman of the House Intelligence Committee Mike Rogers said Greenwald was "selling his access to information," at that a "thief selling stolen material is a thief." Republican chairman of the House Homeland Security Committee Peter King has called for reporters who leak classified information to be prosecuted.
The Obama administration has used the punitive Woodrow Wilson-era Espionage Act to punish whistleblowers who have leaked classified information – of which there is plenty kept secret by the US government – to journalists.
The US Department of Justice was caught a year ago spying on phones of Associated Press reporters in attempt to track down a leaker. The Department then set out to redefine its own guidelines for investigating such leaks, though, despite vows to protect press freedom, the new rules are open-ended.
Similarly, a federal shield law for reporters that has stalled in the Senate has been called "toothless," as it attempts to define who is and who is not a journalist subject to legal protections. Sponsor of the bill, Sen. Chuck Schumer, has said the legislation would "probably not [offer] enough protections" to cover the likes of Greenwald.
In an interview with Huffington Post, Greenwald attempted to make a distinction between his situation in Brazil and Gellman, who essentially reports the same information from Washington, DC. Greenwald said a main difference is that Gellman did not meet with Snowden in Hong Kong, as Greenwald and Poitras did before the NSA documents were published. Though, Gellman did later meet with Snowden in Moscow, where the leaker has been granted temporary asylum.
Greenwald added that he and Poitras have lived abroad during the entire NSA-leak affair and have worked with news outlets across the world in publishing surveillance revelations.
Poitras, a filmmaker, has been detained at the US border "dozens of times," according to Huffington Post, for her war and surveillance reporting.
David Miranda, Greenwald's partner, was detained at London's Heathrow airport last summer while carrying materials from Berlin to Brazil.
You can share this story on social media: