Media shield law advances as Senate struggles to define 'journalist'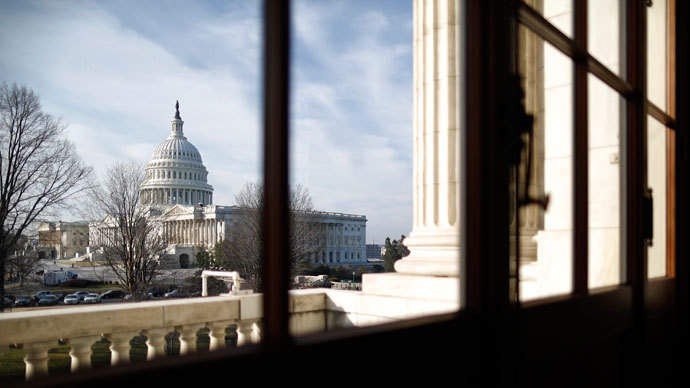 What does it mean to be a journalist? Don't go crazy trying to find the right words — the United States Senate Judiciary Committee decided on the definition for the rest of America on Thursday through approving new language included in a media shield law.
The Senate committee voted 13-to-5 early Thursday to approve S.987, a bill meant to protect members of the press from government intrusion and "maintain the free flow of information to the public" in the wake of recent government scandals that involved federal investigations into reporters with the Associated Press and Fox News.
If approved by Congress and authorized by President Barack Obama, the bill will provide protections to covered persons in the event of a federal probe. The bill would make it more difficult for investigators to compel reporters to reveal their sources, and a judge would directly oversee and approve of subpoenas and court orders aimed at collecting private information used in newsgathering.
Under the bill, requests for a journalist's source information would be limited, if possible, "in purpose, subject matter and period of time covered so as to avoid compelling disclosure of peripheral, nonessential or speculative information."
Exactly who benefits from the bill isn't too broadly defined, however. In advancing the potential legislation, lawmakers in Washington were forced to figure out who should be covered and who shouldn't.
Under the wording of the "Free Flow of Information Act," the committee considers a protected journalist to be an employee, contractor or agent of a group that disseminates news or information, who also must have held that position for at least one year within the last 20, or for three consecutive months during the previous five years.
Additionally, safeguards are included so that a covered person could be a student journalist or a prolific freelancer. In instances of confusion, a federal judge would be in a position to use his or her best discretion to determine who'd be protected.
The exact wording of the bill was reached through a recent compromise brokered by Sens. Charles Schumer (D-New York), Dick Durbin (D-Illinois) and Dianne Feinstein (D-California), who agreed to nix earlier language which could have defined a journalist as someone who receives paid salary from an employer.
Under the compromise, covered persons now include bloggers and freelancers both paid and unpaid who work with the "primary intent to investigate events and procure material in order to disseminate to the public news or information."
During a debate on the Senate floor before Thursday's vote, Feinstein said she feared that the language could let "someone filled with hate or the occasional blogger" receive federal protection. Sen. Jeff Sessions (R-Alabama), argued the language "doesn't come close to being restrictive enough" and later tried unsuccessfully to tack on an amendment which would have eradicated any protection for reporters who reveal classified information.
"This legislation, in effect, says we are going to create legal mechanism to protect anyone who is going to call himself a newsperson. And the leaker, basically, is the one being protected," Sessions insisted. "This legislation would encourage more leakers. It gives some sort of advantage to them in significant ways. It makes it harder to stop and prosecute those cases."
An exemption already included in the text applying to journalists who disclose intelligence "reasonably likely to cause significant and articulable harm to national security" was cited by the Senate, and Session's amendment was defeated 11-to-6. Sen. John Cornyn (R-Texas) also introduced an amendment to ensure "rogue federal employees" couldn't use special clearance to access and leak information, but saw his efforts defeated as well.
As the debate carried on, Sen. Ted Cruz (R-Florida) told his colleagues, "[W]e are on dangerous territory if we are drawing distinctions that are treating some that are engaged in the process of reporting and journalism better than others."
Paul Boyle, senior vice president of public policy at the Newspaper Association of America, told Huffington Post that his group was satisfied with that compromise reached by the Democratic senators since it provided coverage to a large group of independent journalists who otherwise risked being excluded from protection.
Thursday's debate came two months to the day after US Attorney General Eric Holder said the Department of Justice was releasing new rules to govern investigations involving journalists. Under that reform, the DOJ is required to notify a news agency or journalist as soon as a subpoena is sought unless doing so would "pose a clear and substantial threat to the integrity of the investigation."
Reform from the Justice Department and Senate comes following two high-profile scandals in which the DOJ secretively investigated AP reporters and a Fox journalist over unrelated stories that involved leaked national security information.
"We don't question their right to conduct these sorts of investigations, we just think they went about it the wrong way," AP President Gary Pruitt told CBS News in May after it was revealed that the phones used by roughly 100 journalists had been monitored by the government. "So sweeping, so secretively, so abusively and harassingly and overbroad that it is an unconstitutional act."
You can share this story on social media: