'Coversnitch' records & tweets New Yorkers' public conversations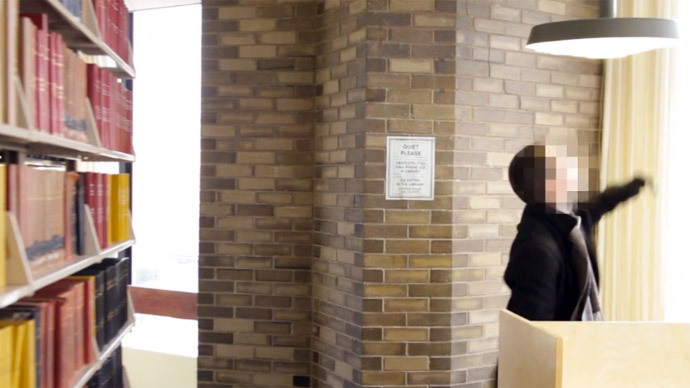 Americans already paranoid about the NSA monitoring their online communications and Facebook sharing their location will find no comfort with new technology that makes it possible for anyone to install a recording device in any common house lamp.
Kyle McDonald and Brian House, who described themselves as artists during an interview with Wired, have posted a video online showing how anyone with $100 can buy the necessary components to build their own light with the ability to listen in on discussions taking place nearby.
The device known as 'Coversnitch' also purports the ability to post snippets from these conversations directly to Twitter for the world to see.
"What does it mean to deploy one of these in a library, a public square, someone's bathroom? What kind of power relationship does it set up?" wondered House, who is also an adjunct professor at the Rhode Island School of design. "And what does this stream of tweets mean if it's not set up by an artist but by the US government?"
Any names or personal details overheard in public conversations were removed before the statements were posted on Twitter. The few tweets that did refer to a specific individual only did so with a single-letter abbreviation where a name would have been. Popular conversation topics included work complaints, relationship issues, and homework assignments.
"That's stupid. Seems like a waste of time."

— Conversnitch (@conversnitch) April 18, 2014
"Are you sure you want to be talking about this? I really don't know if this is the place."

— Conversnitch (@conversnitch) April 18, 2014
"I'm not sure I'm qualified for the new position."

— Conversnitch (@conversnitch) April 18, 2014
The Vimeo video posted Wednesday shows the pair assembling the monitoring device with a microphone, LED light source, and a small plastic flower plant. The device records the audio with help from the nearest open WiFi connection and pays freelance workers through Amazon's Mechanical Turk program to transcribe the audio into tweets.
House and McDonald told wired they first debuted Coversnitch at a Manhattan art exhibition last October, although they refused to mention where else they planted it because of legal concerns. The video they posted online shows a man with his face blurred entering a McDonald's fast food restaurant dressed as a maintenance man, who installs the "light" unmolested by any employees. Exactly which McDonald's branch Coversnitch was (or is) being used remains a mystery.
"We recognize that this device can be used in an illegal way, and we will not admit to using it in that way," McDonald said. "It had potentially been deployed in various places."
Observers have already accused McDonald and House of creating Conversnitch for little more reason than to attract attention. McDonald made headlines in 2011 when he infiltrated Apple store computers and installed a bug that would snap photos of customers' faces and save them to his own server. The stunt prompted a call from Apple to the Secret Service, which raided his apartment and took two of his computers.
"I think you have to make things provocative or even dangerous if you want people to pay attention," he said.
You can share this story on social media: