KKK recruits members for neighborhood watches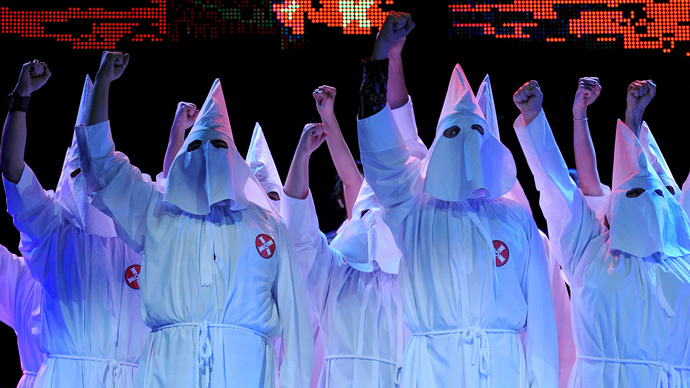 Following a series of nine vehicle break-ins in Fairview Township, Pennsylvania, the local chapter of the Traditionalist American Knights of the Ku Klux Klan has formed a neighborhood watch in the area.
According to PennLive, the local Traditionalist American Knights chapter was given the go-ahead by the organization's headquarters in Missouri, but imperial wizard and president Frank Ancona told the news outlet the group's formation is nothing unique.
"It's just like any neighborhood watch program," he said. "It's not targeting any specific ethnicity. We would report anything we see to law enforcement. We don't hate people. We are an organization who looks out for our race. We believe in racial separation. God created each species after its kind and saw that it was good."
Earlier this month, nine vehicles in Fairview were broken into, including one which had a car battery thrown through the window. Preliminary reports suggested that the robbers were after money and electronics, but the KKK has taken the opportunity to establish a presence in an area it says is home to numerous members.
The flier currently making the rounds in Fairview reads, "Neighborhood Watch. You can sleep tonight knowing the Klan is awake."
As noted by the Huffington Post, the Traditionalist American Knights website claims it "is a White Patriotic Christian organization that bases its roots back to the Ku Klux Klan of the early 20th century. We are a non-violent organization that believes in the preservation of the White race and the United States Constitution as it was originally written and will stand to protect those rights against all foreign invaders. We believe in the right to bear arms against all that threaten our home and family."
Pennsylvania isn't the only state in which the KKK is forming neighborhood watches. Similar papers have been spotted in Missouri and Virginia, where recruitment fliers have also been distributed. Although complaints have been filed, police say the group is legally allowed to distribute its fliers.
"We picked ours up out of our driveway and threw it in the trash," Virginia resident Sarah Peachee told NBC 12 in March. "We weren't interested in even reading about it."
Ancona, however, has defended the KKK's action and the group itself, telling NBC 12, "We don't hate people because of their race. We are a Christian organization."
"We want to keep our race the White race," he added. "We want to stay White. It's not a hateful thing to want to maintain White Supremacy."
The white supremacist group made headlines last week, after the former Grand Dragon of the Carolina Knights of the Ku Klux Klan allegedly shot and killed three people – including a 14-year-old boy – at two Jewish facilities in Kansas. As RT reported, the suspected shooter, Frazier Glenn Cross, had a long history of anti-Semitism and was caught on video yelling, "Heil Hitler" as he sat in the back of a police vehicle.