Nation of Islam's Farrakhan demands separate courts for African Americans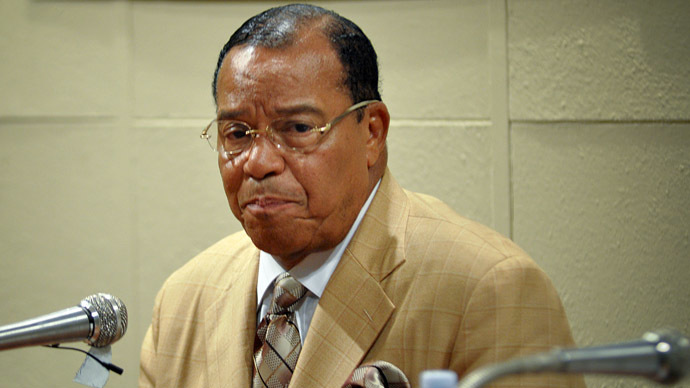 Minister Louis Farrakhan on Sunday urged the black community to unite along religious lines in order to liberate themselves, declaring the need for its own courts in light of the failure of the US judicial system.
Speaking in Detroit to approximately 18,000 people, the Nation of Islam leader used his group's annual convention to deliver a blistering speech criticizing "stand your ground" gun laws, as well as the American legal system's alleged bias against African Americans.
"How long must we let people stand their ground, shooting us and getting away with it while we don't get justice?" Farrakhan said, according to the Detroit News. "We want justice. Equal justice under the law. We want the federal government to intercede to see that black people get justice in accordance with the law."
Farrakhan was likely referencing recent trials in Florida, in which Michael Dunn and George Zimmerman shot and killed black teenagers Jordan Davis and Trayvon Martin. Neither man was found guilty of murder.
If the government can't deliver justice, Farrakhan said, then the only choice left would be for the black community to establish its own system – a court based on the Bible and the Quran.
"Our people can't take much more, " he was quoted as saying by the Detroit Free Press. "We have to have our own courts. You failed us."
"Has America been just to us?" he asked the crowd. After the attendees stated no, Farrakhan said, "if we retaliate, you can bring out your soldiers. We got some, too."
This wasn't the only issue Farrakhan spoke about in his nearly three-hour speech. With US Rep. John Conyers (D-Mich.) in attendance alongside Detroit City Council President Brenda Jones, he cited Muslim respect for the words of Jesus, and talked about the need for Muslims and Christians to work together to solve problems.
Farrakhan also lashed out against claims he is anti-Semitic. Last year, he criticized "satanic Jews" for controlling US institutions, and also blasted President Barack Obama for "[surrounding] himself with Satan … members of the Jewish community."
"Did Jesus have a problem with the Jews of his day? He's not a hater. Neither am I. I don't hate Jewish people ... what I hate is evil," he said on Sunday. After noting Henry Ford was also called an anti-Semite, Farrakhan said, "I feel like I'm in good company."
In response to his comments, Heidi Budaj of the Michigan chapter of the Anti-Defamation League said whatever positive things Farrakhan has to say about the black community, "those are negated by the hatred he spews from the pulpit."
"Expressing pride for being called anti-Semitic is shameful," she told the Associated Press. "A person in this day and age should be ashamed to say that."
You can share this story on social media: