Nation of Islam asks for gang protection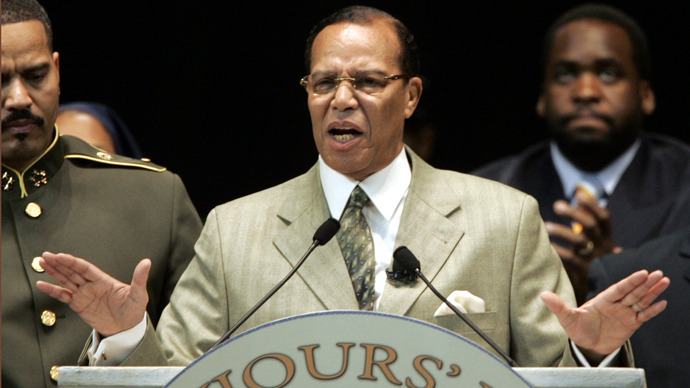 Nation of Islam leader Louis Farrakhan has a proposition for the members of Chicago's gangs — and it doesn't even involve getting them to put down their guns.
Farrakhan, 79, gave an address at the annual Nation of Islam (NOI) Saviours' Day convention on Sunday, and during his remarks he made a plea to the city's gang members. Amid an epidemic of violent crimes in the Windy City, Farrakhan tried to recruit those responsible to protect his group.
"All you gangbangers, we know you love to shoot, but you're killing yourselves," Farrakhan said at the University of Illinois Chicago Pavilion. "All your weapons are illegal and you're using them like savages."
During his address, Farrakhan told a crowd of more than 7,000 that the re-election of a black president did not necessarily equate to a victory for African-Americans, and encouraged the audience to pool together money and buy land in order to "control means of production."
"Even though one of our own has reached the highest pinnacle of the American political system, his presence has not, cannot and will not solve our problems," he said.
The Nation of Islam already owns more than 1,500 acres of farmland in Georgia, and the group's national assistant minister confirmed to the Associated Press this week that the group is looking to buy thousands more acres in the Midwest region of the United States. Should the religious movement look to establish a self-sufficient community, Farrakhan implored gangbangers to provide protection.
"You are the natural warriors to defend," he added. "And the science of war must be taught to us, so that we will protect whatever God allows us to buy or to build. We have to protect what is ours from any thief or robber."
"America is for sale," Farrakhan said. "But we are not owning it. We helped build this. Our sweat and blood was used to protect it. Shouldn't we be co-owners of it? You've got to think like that now. I don't want to walk streets that we don't own."
Elsewhere during his address, Mr. Farrakhan condemned the United States' handling of slain Libyan leader Muammar Gaddafi, and said the US had him killed because he was an "impediment" to American and European interests.
"You killed my brother [Gadhafi], and now you got the same thing in your mind for me," Farrakhan said. "You want to put your hands on me. In fact, you're plotting it as I'm speaking."
Sounding off on a heightened effort to introduce restrictive gun laws, Farrakhan said any legislation limiting the Second Amendment's right to bear arms would not make an impact on the black community since most weapons, he said, were obtained illegally. Until guns are taken off the street entirely, he said, the government would be unable to control who gets them.
"What they don't want is an organized black community, and they do not want leaders that organize young black men," he said.
You can share this story on social media: