British aristocrat died at the hands of Kenyan police – court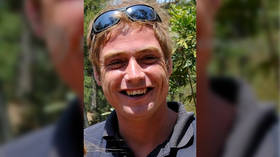 Four Kenyan policemen have been found guilty of the manslaughter of British aristocrat Alexander Monson who died in police custody in 2012, a day after being arrested on suspicion of smoking marijuana.
Issuing the verdict on Monday, Kenyan High Court judge Eric Ogola said that since the officers covered up what happened after Monson's arrest in May 2012, it was now impossible to tell exactly who was responsible – and therefore all four officers involved should be convicted.
"The drugs were planted on the deceased after his death as a cover-up," Ogola said, adding that 28-year-old Monson was "brutally tortured."
Monson's parents, the billionaire Lord Nicholas Monson and his former spouse, Hilary Monson, who still resides in Kenya, were present in the court in Mombasa during the verdict announcement. It took them more than nine years of campaigning to discover what had happened to their son.
The four convicted men are Naftali Chege, Charles Wangombe Munyiri, Baraka Bulima, and John Pamba.
Hilary Monson said getting justice for her son would give her "great satisfaction to show that the justice system in Kenya is not broken."
Like this story? Share it with a friend!
You can share this story on social media: