Liverpool bombing declared terrorist incident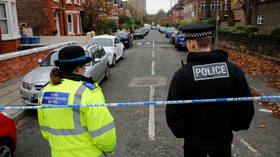 An explosion which occurred outside Liverpool Women's Hospital on Sunday, shortly before the nation fell silent in remembrance, has been declared a terrorist incident, police said.
British police said that Sunday's blast in a Liverpool taxi was caused by an improvised explosive device. "Our assumption so far is that this was built by the passenger in the taxi," Counter Terrorism North West's Russ Jackson told gathered reporters on Monday.
Earlier on Monday it was announced that taxi driver Dave Perry, who drove the bomber before reportedly locking him in his car outside the women's hospital after hearing suspicious noises, had himself been released from hospital.
UK Prime Minister Boris Johnson praised Perry's "incredible bravery," noting that he behaved with "incredible presence of mind." GB News' Patrick Christys called for Perry to be knighted, while Liverpool residents have set up a fundraising page for the heroic taxi driver.
In CCTV footage shared online, the taxi can be seen driving up to near the reception of the hospital, at which point the bomb appears to go off and the car comes to a halt. Perry then runs from his car which eventually catches fire. It has been reported that the bomb did not detonate as the terrorist had planned.
The bomber was the only fatality of the blast which occurred shortly before the 11am remembrance. He had reportedly first asked to be taken to the war memorial but with roads closed for the commemoration, he then asked to be taken to the city centre, and finally the hospital.
Investigators said they know the identity of the passenger who blew himself up outside the hospital. "The reason why he then took it to the Women's Hospital is unknown, as is the reason for its sudden explosion," police noted.
Police confirmed that a fourth man had been arrested in relation to the attack; three were known to have been detained on Sunday. Jackson added that "significant items" were found during searches of two addresses in Liverpool. Investigators said they were aware of the proximity of the explosion to a nearby Remembrance Sunday event. "We cannot at this time draw any connection with this but it is a line of inquiry we are pursuing."
The counter-terrorism officer said that further searches will be necessary today and potentially into the coming days.
If you like this story, share it with a friend!
You can share this story on social media: