Covid-19 vaccine passport might be required to buy clothes in UK later this year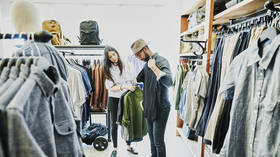 The UK government has refused to rule out a mandate requiring Brits to show a Covid-19 vaccine passport upon entering a clothing store.
In a Monday report on what it calls "Covid status certificates", the government said vaccine passports – which would show whether a person has been vaccinated, recently tested, or has antibodies from previous exposure – "should never be required" for "essential public services" like supermarkets and public transport, but made no mention of 'non-essential' services like clothes shops.
Prime Minister Boris Johnson's spokesperson also refused to rule out vaccine passports for clothes shoppers, telling reporters that passports "will not be required" for essential services, but failing to comment on non-essential retail.
Also on rt.com
'A form of discrimination': Goalkeeping ace lashes out at UK govt 'Covid passport' plans for FA Cup final
The government is looking to roll out vaccine passports after June 21, when all lockdown restrictions are scheduled to be lifted provided cases of Covid-19 remain low and the vaccination program continues to go according to plan.
Johnson's plans, however, have come under fire from members of his own party and the opposition alike. The Labour Party's Shadow Health Secretary Jonathan Ashworth said on Sky News on Tuesday that it would be "discriminatory" to tell someone "you cannot go into Next or H&M unless you produce your vaccination status on an app."
Ashworth criticised the government's frequent vagueness when it comes to major coronavirus policies, saying, "I just want ministers to be honest and straight with us and tell us exactly what their policy proposals are."
The World Health Organisation (WHO) also expressed its opposition to the concept of vaccine passports on Tuesday, claiming it is a "question of discrimination" and pointing out that it is still currently unknown whether vaccinated people can spread Covid-19.
Also on rt.com
Boris Johnson's 'discriminatory' vaccine passport plan in trouble as Labour and Tory rebels unite in opposition
Think your friends would be interested? Share this story!
You can share this story on social media: