Blow to Boris: UK MPs vote to delay decision on BoJo's Brexit deal, insist he now must ask for extension from EU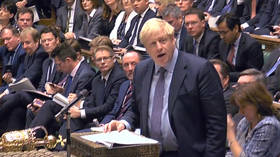 In a defeat for Prime Minister Boris Johnson, UK MPs passed an amendment delaying approval of his deal with the EU. Lawmakers also want Johnson to apply for yet another Brexit extension, which he rejects outright.
The amendment laid down by former Conservative Cabinet minister Sir Oliver Letwin has been passed by the House of Commons by 322 votes to 306. It means that Parliament withholds support for Johnson's deal with the EU until formal ratification legislation, known as the Withdrawal Agreement Bill, is passed by MPs in the lower house and the Lords in the upper house.
This led to the crucial Brexit vote not taking place on Saturday at all and it's yet unclear when the MPs will return to the matter. The government wanted to put the deal with the EU to another vote on Monday, but House of Commons Speaker John Bercow said that he would only decide if he'll allow that to happen at the start of the week.
Also on rt.com
Like a 'greased piglet' BoJo will win his Brexit vote – former UK PM Cameron
"The government is not the arbiter of what is orderly," Bercow said, referring to the parliament convention that the same question can't be raised twice during the one session.
The Letwin amendment was designed to close any loopholes in the Benn Act, which aims at preventing the UK from leaving the European Union without a deal. The Benn Act also states that if MPs fail to greenlight Johnson's deal – hailed by both the PM and Brussels – by the end of Saturday, he has to write a formal letter to the EU asking for a three-month Brexit extension. For now, the UK is scheduled to leave the bloc on October 31.
Also on rt.com
'Britain now wants to remain': Anti-Brexit campaigners' POWERFUL VIDEO set in English countryside goes viral
But Johnson, who earlier vowed to leave the EU by October 31, with or without a deal, vigorously rejected the idea of asking Brussels for any extension.
I will not negotiate a delay with the EU, and neither does the law compel me to do so.
The PM said he may defy the act because "further delay will be bad for this country, bad for the European Union and bad for democracy."
European Commission President Jean-Claude Juncker has also ruled out any further delays to Brexit. "We have a deal. So why should we have a prolongation [extension]?" he told reporters after concluding talks on the new separation agreement with Johnson earlier this week. However, Juncker's word wouldn't be enough to reject the extension request from London as the approval of all 27 EU leaders is required.
Like this story? Share it with a friend!
You can share this story on social media: