UK MPs vote to take control of Brexit process through 'indicative votes'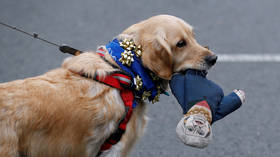 UK lawmakers have decided to take the Brexit process out of PM Theresa May's hands, voting to accept an amendment that would break the ongoing parliamentary deadlock by changing the rules.
Parliament backed the amendment, by 329 to 302, to allow time for "indicative votes" on the finer points of the beleaguered Brexit deal. The measure was proposed by Oliver Letwin, a member of Theresa May's Conservative party, and must be passed before it takes effect.
On Monday, May gave up mid-way through her third attempt to push a Brexit deal through, leaving the UK staring down the barrel of a no-deal Brexit, a situation Labour leader Jeremy Corbyn has called a "national embarrassment." In a last-ditch effort to force consensus, May has reportedly even offered to resign if the pro-Brexit contingent will just back her plan.
Also on rt.com
May says 3rd vote on Brexit deal not ready to go ahead, laments 'collective failure' (VIDEO)
A second amendment, seeking parliamentary approval for a no-deal Brexit should one be looming less than a week away – and with an option to delay the separation still further in an effort to negotiate around the impasse – was rejected 314 to 311.
Another amendment, proposed by Corbyn, was withdrawn without a vote. The Labour leader suggested the government provide "parliamentary time" for a majority to come to an agreement on an alternate Brexit approach, such as a second referendum or a customs union with the EU.
The British government called the parliamentary power grab "disappointing" and pleaded with the lawmakers to be "realistic" – and not to drag the process out so long it ran into European parliamentary elections.
Also on rt.com
May tells Brexiteers she'll quit if they vote for her Brexit deal - ITV
An EU statement released earlier on Monday revealed that while they "hope that it will not be the case," they have completed preparations for a no-deal Brexit on April 12, including a detailed contingency plan and even a dedicated hotline for panicked Brits to call.
Think your friends would be interested? Share this story!
You can share this story on social media: