May accused of 'stunning display of pathetic cowardice' after delaying Brexit vote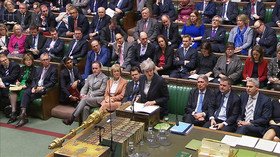 UK Prime Minister Theresa May addresses the House of Commons after the canceling the parliamentary vote on her Brexit deal, a day before it was scheduled to take place.
May confirmed that the vote was cancelled, as she feared she would lose it "by a significant margin."
The PM faced laughter from Labour benches when she said that, over three days of debate, she had "listened very carefully to what has been said in this Chamber and out of it by members from all sides."
In response, Labour leader attacked the PM for the delay, outlining that the deal was bad for the country before asking what was the point of May bringing back the "same deal" to MPs at a later date.
Following Corbyn's statement, MPs from both the SNP and the Lib Dems urged him to bring forward a vote of no-confidence in the Prime Minister, something which he has repeatedly threatened to do.
A somber Nigel Dodds, the DUP leader at Westminster, told the PM the Northern Irish backstop - contained within her deal - was "unacceptable to this House," before urging May to renegotiate the deal.
READ MORE: British MP suggests threatening Ireland with food shortages over Brexit, Twitter outrage follows
May has, in practice, until March 28 to present a deal to parliament - the day before Brexit is supposed to be initiated.
As May spoke the markets reacted, Sterling hitting a 20-month low against the dollar down two cents in one day to $1.2524. While betting odds on Britain to leave the EU in 2019 shrank down to there lowest yet, 37 percent.
Earlier on Monday, a spokesperson for May claimed that the vote would be going ahead as planned. Just minutes later the news broke, following a conference call between May and her cabinet, that the vote would in fact be delayed.
READ MORE: Javid circling May, ready to launch leadership bid if PM's 's*** Brexit deal' is defeated – reports
Labour leader Jeremy Corbyn has slammed May for canceling the crucial vote, claiming the PM has had to delay her own government's vote because her Brexit deal is "disastrous."
Echoing her leader, Nicola Sturgeon, SNP MP Kirsty Blackman stated: "the Prime Minister is being forced to pull tomorrow's vote in a stunning display of pathetic cowardice."
The House of Commons vote, which would approve or reject the terms of the UK exit from EU, was due to be held on Tuesday evening.The vote will now have to be rescheduled.
Like this story? Share it with a friend!
Subscribe to RT newsletter to get stories the mainstream media won't tell you.
You can share this story on social media: