Javid circling May, ready to launch leadership bid if PM's 's*** Brexit deal' is defeated – reports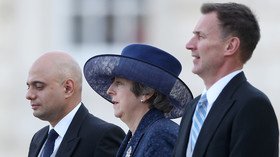 British Home Secretary Sajid Javid is apparently preparing to launch a leadership challenge this week, in case Theresa May's Brexit deal is defeated in the House of Commons and she is axed as PM, with Tory rivals ready to pounce.
Javid is building a team of ministers in a bid to ready himself for the top job ahead of Tuesday's crucial Brexit vote in Parliament which could potentially seal the fate of the beleaguered prime minister, the Daily Mail reports.
If successful, Javid would become the first non-white prime minister in UK history. One Cabinet minister told The Sun: "Sajid is tapping us up. He is very direct, but he's not offering jobs yet, which wouldn't be a good look."
Another senior Tory claims Javid thinks May's "Brexit deal is s***," and that "she'll be forced out when it falls, and he is then going to declare immediately," according to the paper.
READ MORE: 'My deal or no deal': May defends Brexit divorce plan amid MP rebellion & cabinet resignations
The revelation comes as a string of Tory contenders are reportedly jostling for May's crown with the PM facing a week that could see the end of her reign.
Javid and Foreign Secretary Jeremy Hunt are both said to be testing the water with Tory colleagues on whether they would support any potential leadership bid, it is alleged.
Boris Johnson, meanwhile, fueled speculation that he is positioning himself to be the next PM, after refusing to rule out challenging May on the BBC's Andrew Marr show on Sunday. The former foreign secretary added to the rumors, by doing away with his idiosyncratic messy hair look, in favour of a new haircut dubbed by TV presenter Piers Morgan as "a smart prime ministerial crop."
Brexiteers, former Brexit Secretary Dominic Raab and former Work and Pensions Sec Esther McVey have also not ruled out running for leadership of the Conservatives in interviews on Sky News' Sophie Ridge on Sunday show. McVey insisted: "If people asked me, then of course you'd give it serious consideration."
It comes after reports that May has been considering whether to delay the Brexit vote in a desperate attempt to renegotiate a deal with Brussels which could command the support of Parliament, after fears she could be heading for a heavy defeat in the House of Commons on Tuesday.
Think your friends would be interested? Share this story!
Subscribe to RT newsletter to get stories the mainstream media won't tell you.
You can share this story on social media: