Somber stats: 2018 sets alarming new record for gun violence in US schools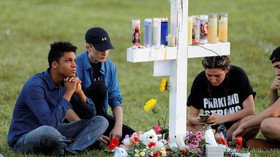 In a year where deadly mass shootings rocked the US, it is unsurprising that 2018 has been the worst year on record for gun violence in American schools.
According to data collected by the US Naval Postgraduate School (NPS) Center for Homeland Defense and Security, there were 94 incidents of gun violence this year.
The database defines a gun violence incident as one where a firearm is "brandished, is fired, or a bullet hits school property for any reason."
Alarmingly, the 2018 figure is 60 percent greater than the previous record, which was 59 in 2006.
READ MORE: Florida school shooter identified as 19yo former student
The most deadly school shooting of the year was in Parkland, Florida in February, in which 17 students and staff members at Marjory Stoneman Douglas High School were killed. Former student Nikolas Cruz has confessed to the attack.
Also on rt.com
Florida school shooter identified as 19yo former student
2018's worst US school shootings
In May, a shooting at Santa Fe High School in Texas killed 10 students and teachers. Student Dimitrios Pagourtzis was charged with capital murder for the horrific attack.

A school shooting in Benton, Kentucky in January left 2 dead and 18 wounded; student Gabe Parker was charged with murder.

Two students were shot at Sal Castro Middle School in February. A 12 year-old girl was arrested.

In March, one student was killed and another wounded at Huffman High School in Birmingham, Alabama. Student Michael Jerome Barber, 17, was charged with manslaughter.
It wasn't just school shootings that plagued the US this year. In October, 11 people were killed in a shooting at a synagogue in Pittsburgh, Philadelphia. Just weeks later, 12 people were shot dead in a gun attack at the Borderline Bar & Grill in Thousand Oaks, California.
Think your friends would be interested? Share this story!
You can share this story on social media: