'Whatever happens, Russia did it!' Senator mocks 'absurd' Kiev claim FSB is behind France protests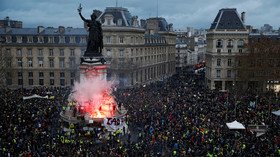 A senior Russian parliamentarian was incredulous after Ukrainian security services officially accused Moscow special operatives of orchestrating the Gilets Jaunes protests that have rocked France over the past month.
"Kiev is tirelessly pushing the boundaries of the absurd," senator Aleksey Pushkov, who heads the media relations committee in the upper chamber of Russia's parliament, wrote on Twitter.
"We've known long enough – whatever bad things happen in Ukraine, Russia is blamed. But recently we have seen a new strategy from Kiev – anything that happens anywhere in the world, from Brexit to the French protests, Moscow did that too."
Earlier on Sunday, Ukrainian security service SBU accused Moscow of deploying "illegal terrorist armed formations" previously involved in the conflict in Eastern Ukraine, on the streets of French cities.
"Radicals under the banners of the so-called Donetsk People's Republic (DPR) and under the supervision of Russia's FSB and Directorate of General Staff of Russian Army are passing a 'practical exam,'" the agency wrote on Facebook in English, under a quote from its head Vasyl Hrytsak and a picture of two men in yellow vests holding a DPR flag.
"Behind the back of peaceful protesters, they resort to the organization of riots and acts of violence in France. SBU has information that Russian intelligence services have to organize similar provocations in Belgium, Germany, Spain, Bulgaria and other European countries."
The post did not detail how Russia managed to find enough provocateurs to rouse hundreds of thousands of people in scores of locations. Nor how all of the infiltrators have managed to avoid being among the thousands that have been detained by the French authorities.
Also on rt.com
Music in mayhem: Artists hit the streets with Yellow Vest protesters (VIDEOS)
"If you tried to explain to the Gilets Jaunes on Champs Elysee that they were being organized by the Russian security services, you would at best get your face kicked in," wrote Pushkov. "You don't hear that sort of nonsense outside of Kiev."
While no one has been quite so bold as the SBU with such claims, there has been a marked shift in the past several days towards blaming Russia for what started as a fuel tax protest. An article in Bloomberg accused Russian media and Twitter accounts of "amplifying" the protests on Saturday, the day when they made the front pages of literally every major Western news outlet.
Subscribe to RT newsletter to get stories the mainstream media won't tell you.
You can share this story on social media: