'Leave our nation be': French FM fires back at Trump's tweet on Yellow Vest rallies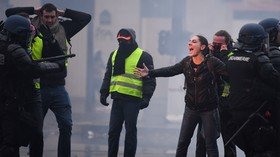 The French foreign minister demanded that Donald Trump doesn't meddle into the country's affairs. Earlier the US leader blamed the Paris climate change agreement for sparking anti-fuel tax protests that swept France.
Jean-Yves Le Drian said that "we do not take domestic American politics into account and we want that to be reciprocated."
"Leave our nation be," he insisted further.
READ MORE: 260+ injured & over 1.7k detained across France in latest Yellow Vest chaos (VIDEO)
The minister reacted to Trump's recent tweet in which he blamed the climate change deal for essentially causing the Yellow Vest unrest, which has been going on for weeks now.
"The Paris Agreement isn't working out so well for Paris. Protests and riots all over France," President Trump tweeted.
Also on rt.com
'Paris agreement isn't working out so well for Paris!': Trump taunts Macron over Yellow Vests
The Yellow Vest movement – named after high-visibility clothing that drivers keep in their vehicles – has been gripping France for four consecutive weeks. This Saturday broke the record after over 1,700 people were detained and over 260 injured. The latest unrest, according to the country's economy minister, was "a disaster" for France's trade and economy and a true "crisis of the nation."
As the world has been closely following the tense situation, so apparently has Donald Trump. Earlier this week he used the issue to hail his move to quit the Paris climate accord, saying he was "glad" that French President Emmanuel Macron and the Yellow Vests agreed it was doomed.
On another occasion he even hijacked the French protests for a rant about how "badly" the European Union treats the US. He went on to toot his own horn for falling oil prices.
READ MORE: Kneeling protester: A new symbol of the Yellow Vests? (PHOTOS)
"Thank you, President T," he tweeted.
The Paris climate change accord revolves around reducing greenhouse gas emissions and sets the long-term goal of keeping the global average temperature to well below 2°C. It also allows each country's efforts to cut emissions to be measured every five years.
Washington pulled out of the agreement back in July 2017, with President Donald Trump claiming that it undermines the American economy and "puts [the US] at a permanent disadvantage."
Like this story? Share it with a friend!
You can share this story on social media: