'Paris agreement isn't working out so well for Paris!': Trump taunts Macron over Yellow Vests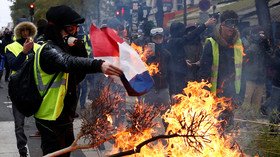 As demonstrators flood France for the fourth week running, the US president Donald Trump has blamed the climate change agreement for sparking protests, and claims the Gilets Jaunes are chanting his name.
"The Paris Agreement isn't working out so well for Paris. Protests and riots all over France. People do not want to pay large sums of money, much to third world countries (that are questionably run), in order to maybe protect the environment. Chanting 'We Want Trump!' Love France," Trump tweeted from the White House early on Saturday.
Nominally, the demonstrations began last month over a proposed environmental fuel tax, directly inspired by the Paris climate accords of 2015, under which France promised to cut its carbon emissions by 75 percent.
So, Trump's tweet hits the mark, but also paints a reductive picture of the Yellow Vests, who are not just aggrieved right-wingers angry that the government wants to take away their petrol cars.
Right from the start, the Gilets Jaunes – who take their name from the high-visibility jackets that drivers must wear if they step outside the car on the roadside – were a symptom of a wider resistance to the presidency of Emmanuel Macron. As the president himself, a former banker who served in a center-left government, has steered a slippery course, so have his opponents come from the entire political spectrum, coalescing around an issue to create the biggest pushback since he was elected in May last year.
As with many modern street movements, there is no leader or single clear aim. But documents produced by the groups involved have demanded both a lowering of France's onerous taxes, and a safeguarding of its famed social protections. Within days, many were simply calling for Macron to resign.
Not that they necessarily want Trump to take over. The president's proclamation that his name was ringing out from Bordeaux to Strasbourg appears to be based on a single, old, mistitled video that was actually filmed at a rally in June in support of British nationalist Tommy Robinson but spread as a meme on conservative Twitter over the past few days.
Actual footage from France is far less euphoric – with hundreds of arrests across the country, where police say 31,000 people are out on the streets (organizers claim much higher numbers). Most of the disturbances have been in Paris, where tear gas and water cannon were unleashed to disperse what French authorities are saying are armed, professional provocateurs, who traveled from across the continent.
As the day of news wrapped up Trump sent another message calling it a "very sad day & night in Paris" and proposing one more time to abolish the "ridiculous and extremely expensive" Paris agreement.
Earlier in the day, Trump also returned to one his cherished subjects, with yet another reminder of France's unwillingness to contribute sufficiently to NATO, spiced up by a dig at the country's military prowess.
"The idea of a European Military didn't work out too well in W.W. I or 2. But the U.S. was there for you, and always will be. All we ask is that you pay your fair share of NATO. Germany is paying 1% while the U.S. pays 4.3% of a much larger GDP – to protect Europe. Fairness!" wrote the US president.
Since his election in 2016, Trump has cultivated a fractious relationship with most Western leaders, regularly clashing with them over the role of supranational bodies such as the WTO, or the International Criminal Court, and issues like trade, emissions and immigration.
You can share this story on social media: