100s detained, tear gas fired: Yellow Vest mayhem hits Paris on 4th weekend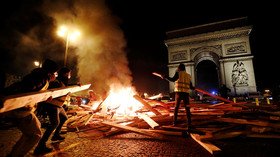 Clashes, tear gas, barricades and broken windows have been the sights in the French capital as the Yellow Vest protests rage throughout the country for the fourth week in a row. Hundreds were detained and dozens injured.
A total of 125,000 people demonstrated across France, including 10,000 in Paris. Authorities said over 1,300 people were arrested throughout the country.
Saturday's clashes appeared to be even more heated and violent than last week's ones, RT's Charlotte Dubenskij, who has been reporting from the middle of Paris mayhem, said.
READ MORE: 'Paris agreement isn't working out so well for Paris!': Trump taunts Macron over Yellow Vests
More than 70 people, including seven police officers, have been injured in Paris.
"In previous protests, the police have generally tried to hold back from deploying tear gas and even when they had objects pelted at them by the protesters, they've held back until they feel that's too much," she said. "Today, when one or two things were thrown at them, they've responded immediately. And it's not just tear gas, it's water cannons and, of course, we have armored vehicles on the streets of Paris the first time since 2005."
Several hours into the protests, trucks armed with water cannon arrived in the heart of the capital.
Violence unfolded as several Yellow Vest protesters built barricades in the city center and set them on fire.
Beefing up its presence, law enforcement also deployed armored vehicles belonging to the French Gendarmerie – the military police. The hardware was stationed right next to the Arc de Triomphe,which last week saw one of the fiercest battles between police and rioters.
This is the fourth consecutive Saturday of Yellow Vest protests, with levels of violence between police and demonstrators that has not been seen in decades. Last week, the unrest peaked again, resulting in over 400 arrests. Scores of people were also injured during the heavy-handed police response. Officers also suffered injuries while trying to handle the situation.
The French government says for now it has abandoned the plans for fuel price hikes and a higher tax, which triggered the rallies. The unrest, however, is still far from losing steam. The demonstrators are billing their action on Saturday as "Act IV. Stay on the course" and are demanding more concessions, including lower taxes, a higher minimum wage and for some even the resignation of Emmanuel Macron.
Also on rt.com
Kneeling protester: A new symbol of the Yellow Vests? (PHOTOS)
Like this story? Share it with a friend!
You can share this story on social media: