British Royal Air Force kicks off 'combat readiness' drills with Saudi Arabia (PHOTOS, VIDEO)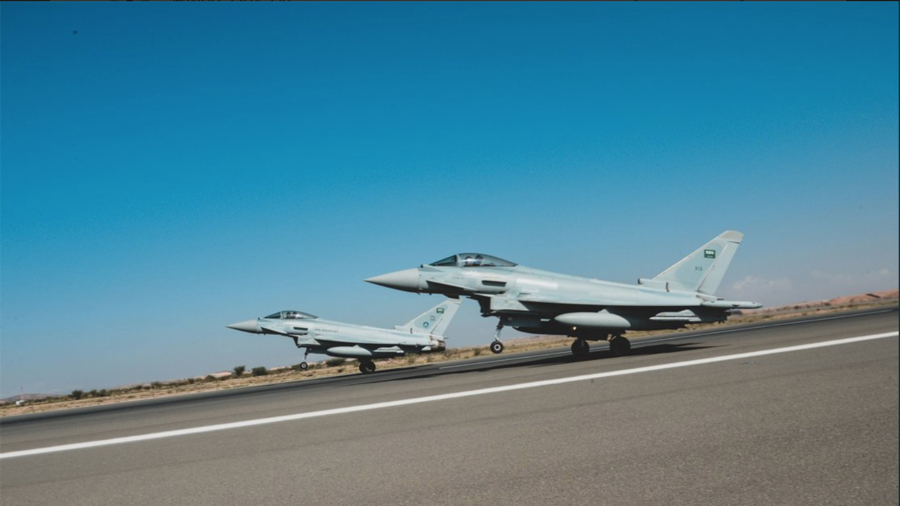 London has sent its airpower and servicemen for a joint drill with Saudi Arabia, despite international pressure to wind down military cooperation with Riyadh after the Khashoggi murder and amid its devastating war in Yemen.
Around 200 Royal Air Force (RAF) servicemen and eight Typhoon jets are now in Saudi Arabia taking part in a 'pre-planned' Green Flag exercise to help the Royal Saudi Air Forces (RSAF) maintain its combat readiness.
"The British Royal Air Force aims to integrate all combat systems, including air combat, air support and electronic warfare, and especially how to use them against the enemy's land defense systems for maximum operational efficiency," Major General Haidar bin Rafie Al-Omari of the RSAF said on Monday.
The joint drills, which will conclude on December 11, are running parallel to the UK's ongoing diplomatic row with Riyadh over the murder of Saudi journalist Jamal Khashoggi at the kingdom's embassy in Istanbul in October. While London has yet to take any concrete steps, it has said it is ready to sanction Riyadh if evidence points to the royal family's involvement in the journalist's death.
Saudi Arabia insists that Crown Prince Mohammed bin Salman was not aware of the plot to kill Khashoggi, and has arrested 18 people allegedly involved in the rogue operation. For now, the UK is waiting for Riyadh to conclude its investigation into the tragic fate of the Washington Post contributor. As long as the Saudi leadership continues to deny any involvement in Khashoggi's death, London is keen to maintain its arms contracts with the kingdom.
"We have an important strategic partnership with Saudi Arabia involving defense and security co-operation which has saved lives on the streets of Britain," Foreign Secretary Jeremy Hunt said last month, noting that London is waiting for a credible explanation of the killing before it proceeds to "act accordingly."
The UK government had been widely criticized for its continued support of Saudi Arabia and its arms supplies, which contributed to the destruction of vital infrastructure and mounting civilian casualties in Yemen. According to recent estimates, around 56,000 people died in the conflict. Since the Saudi-led bombing campaign began in March 2015, the UK has licensed £4.7 billion worth of arms to Saudi Arabia. They include £2.7 billion ($6 billion) worth of ML10 licenses for aircraft and helicopters and £1.9 billion ($2.4 billion) of ML4 licenses covering weapons such as missiles and bombs.
Tornado GR4 ground attack fighters and Eurofighter Typhoons play a crucial role in the air campaign in Yemen, the Telegraph reported earlier this year, noting that Riyadh has "twice as many British-made warplanes at its disposal for its bombing campaign in Yemen than those that are available for the entire Royal Air Force."
If you like this story, share it with a friend!