Operation 'No deal'? UK army braces for Brexit chaos as May faces fierce rejection of divorce plan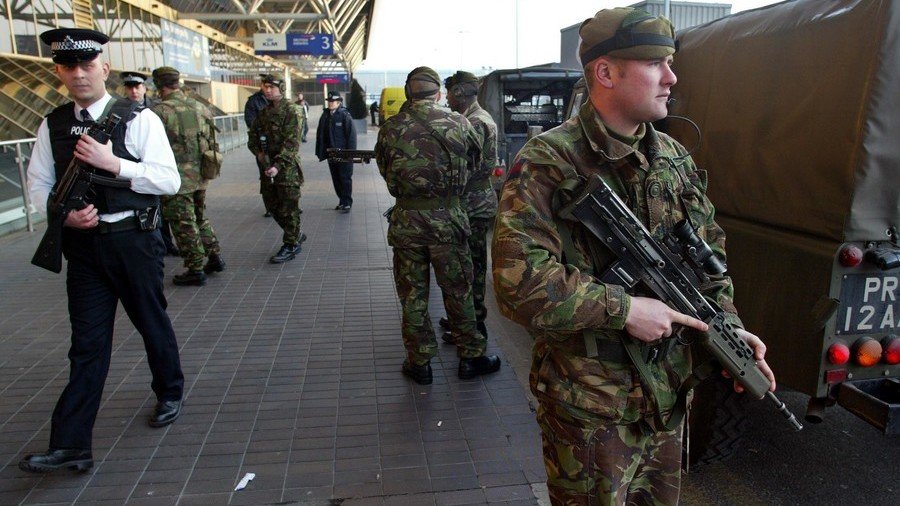 The military is reportedly drafting contingency plans that could see British troops deployed in the streets, as the prospects of a chaotic Brexit seem increasingly realistic, with Theresa May facing a potential no-confidence vote.
"About 20 officers who normally oversee Operation Temperer... were ordered last week to step up no-deal Brexit planning," the Sunday Times reported, citing a well-placed military source.
While Operation Temperer officers are reserved as a response to terror attacks, this time they were tasked with devising a strategy to maintain public order and secure the flow of medical supplies to hospitals. As many as 10,000 members of the military could be deployed on British streets should UK exit the EU on March 29 with no deal with Brussels.
"The armed forces stand ready to support Britain on a practical basis," British defense minister Tobias Ellwood said on the 'Ridge on Sunday' television program last week. "There are contingency plans being made, there are discussions being held behind the scenes as to what support our armed forces will do."
The army always makes "sensible contingency plans" to deal with all types of events, Chief of the Defence Staff Sir Nick Carter told the BBC last week. "At this stage I think people are confident there will be a deal, if there's not one then we stand ready to help in any way we can."
British society remains highly divided over Theresa May's draft withdrawal agreement with the EU which was made public on Wednesday night and prompted the resignation of seven ministers. A YouGov poll conducted on Thursday found twice as many Britons oppose the deal as those who support it (42 to 19 percent).
This week, which she has described as "critical" for the very future of the country, May will further confront her critics, emphasizing that she will not renegotiate the EU Withdrawal Agreement. Ahead of an intense week of negotiations with UK MPs before an EU summit on the deal convenes on November 25, the Prime Minister is set to tell the Confederation of British Industry (CBI) Monday that she remains "confident" that she "can strike a deal at the Council that I can take back to the House of Commons."
Amid wide discontent with the deal, May now faces a nearly impossible challenge to get the Parliament to approve the agreement, which makes the chance of no-deal Brexit very real – as real as a no-confidence vote. At least 23 of her own fellow Conservative MPs (out of 48 needed) have already expressed no-confidence in May and demanded that she step aside.
Opposition Labour leader Jeremy Corbyn will lead the charge against May on Monday and will describe May's proposal as "a botched, worst-of-all-worlds deal" that is terrible for Britain.
Corbyn's sentiments seem to be shared in Edinburgh, where First Minister Nicola Sturgeon noted that it would be a "deeply irresponsible" mistake for the Parliament to endorse May's deal. The Brexit process is just "disastrous" and does not take into account the views of the Scottish government, Scotland's constitution minister, Michael Russell noted. "It seems clear the UK Government's deal will be defeated in the House of Commons ... we will do everything in power to ensure a common-sense alternative is in place," Russell said.
Former foreign minister Boris Johnson, who resigned in July over Brexit plans, also expressed opposition to the deal ahead of May's Monday speech, and called the PM's plan either "a tragic illusion" or "an attempt at deception." Wring in his weekly column for Monday's Daily Telegraph, he said "we can still pull it back and get the Brexit we want."
Dominic Raab, who quit as Brexit secretary last week, noted that May's government lacks the "political will and resolve" to defend the UK's interests. "If we cannot close this deal on reasonable terms, we need to be very honest with the country that we will not be bribed and blackmailed or bullied and we will walk away," he told the Sunday Times.
Despite criticism of the agreement, May insisted that she will not quit her office: "A change of leadership at this point isn't going to make the negotiations any easier and it isn't going to change the parliamentary arithmetic."
Think your friends would be interested? Share this story!
You can share this story on social media: