End of May in November? 'UK PM will be very lucky to get through the weekend'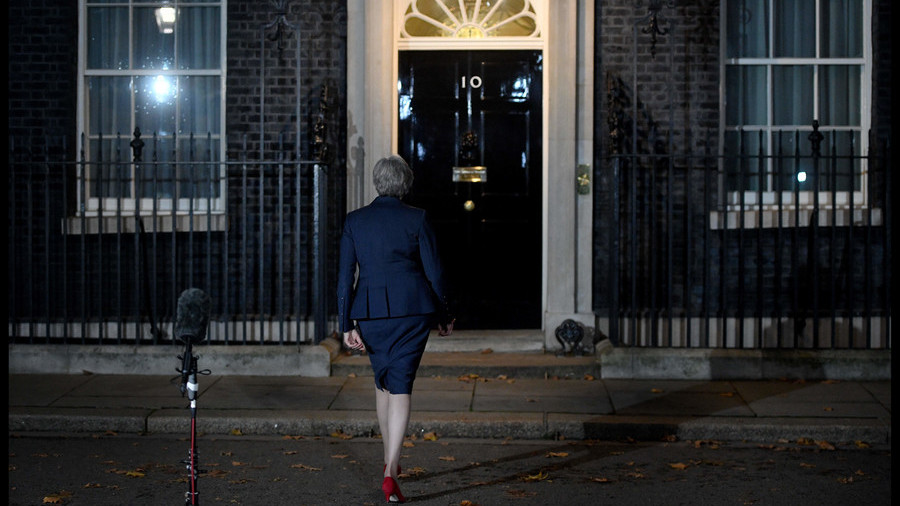 In a country so divided over Brexit where it is hard to find any agreement to bring people together, May has done it – she has united people against her plans, Professor of Law and Government at Durham Law School Thom Brooks said.
The UK Prime Minister is under criticism over her Brexit plan with the media slamming Theresa May for creating a "divided government" and a "fractured country."
On Wednesday, Theresa May said she managed to secure the backing of her cabinet for a draft divorce deal after more than five hours of talks but she'll have to face another hurdle in her bid to see Brexit through, getting her plan adopted by parliament.
Meanwhile, Brexit Secretary Dominic Raab has resigned from the UK government and Work and Pensions Secretary Esther McVey quit just an hour after him. Suella Braverman quit as Brexit minister, as well as Northern Ireland minister Shailesh Vara.
RT: Four high-level British officials have resigned following her announcement that the cabinet settled on a Brexit deal. Is May's job in danger now?
Thom Brooks: I think her job is most definitely in danger. For the simple reason, her being prime minister has been all about delivering this Brexit plan. And she has done something, to be fair, utterly remarkable. In a country so divided over Brexit where it is hard to find any agreement that brings people together, she seems to have done it. She has brought all the parliament, it seems, very much together against her plans. I can't see her getting this plan through. And with it, it seems to be no confidence in the one main job she had as PM. Today is very bad news for her, in particular, losing a second Brexit secretary. I think the writing is on the wall.
RT: She says it is her deal or no deal or remain. Is that really the case?
TB: Not at all. I think that is how she has wanted to set this out from the beginning. She thought there is going to be something that she will be able to offer, and it rather be this or offer cliff edge or somehow not listening and respecting the will of the public. There is another option which is going back to the drawing board. She has left these negotiations too late. The Chequers plan in September was the first time that the cabinet had seen anything about what was happening.
READ MORE: 'Government is in chaos': Corbyn slams May's Brexit deal, as ministers abandon ship (VIDEO)
We've seen both her Brexit secretaries leave, both saying that logic has been cut out of the process. They're supposed to be the people responsible for helping deliver Brexit but she has instead relied on a very small team of advisers in the back room to be doing this. She has left it all too little, too late. She just assumed the European Union was going to roll over and give the UK whatever it wanted. That didn't happen. And then it is also leaving it too late trying to back parliament into a corner, saying "it is rather this or nothing at all." You wouldn't want nothing at all to happen, that would be a calamity. Because there was no planning for a no deal scenario. She has tried to do it that way but it is not the only option. There is an opportunity to think about this again. And in her own plan the transition period doesn't have an end date. This kicked the big issues down the road possibly for years to come which is why the Brexit crowd are so opposed.
Democracy denied: May betrayed 17.4 million UK citizens
Theresa May is a remainer to her core, she has betrayed 17.4 million people who took part in the largest democratic exercise for decades, she must go, radio host and journalist Jon Gaunt told RT.
"She has got the backing in the cabinet. That is a bit like a football manager has the backing of the chairman and then they get the sack after the next game. She won't get this through the Commons. Stories are already coming out of that meeting and the draft proposal is now being published…It was alright bunfight in there. It went on for five hours," he said. "I believe she is toast. I believe she will be very lucky to get through the weekend. And she won't get this through the Commons anyway even if there isn't a leadership challenge. You just have to do the maths."
In Gaunt's opinion, the cabinet ministers probably thought "we will back her because it won't go through the Commons anyway and therefore we don't have to have any chance of this being unpopular and losing our jobs."
He added that such approach is typical of British politicians,"they just are looking after themselves and putting themselves before the country."
Gaunt also believes that MPs will be not thinking about their constituencies and the public.
"They are self-serving pigs, the majority of them. Let's face it, some 17.4 million people, the majority, voted to get out. And we should have been out ages ago. It is taking two years of this nonsense. This is why people are talking about people's vote and a second referendum. We had a people's vote and the people spoke. The politicians should have just got on with it. And they clearly haven't because let's face it, Theresa May is a remainer to her core. They didn't want us to leave. The globalists didn't want us to leave. Barack Obama didn't want us to leave. Goldman Sachs didn't want us to leave. Industrialists didn't want us to leave. But why give a vote to the people if you are going to ignore it?" he told RT.
The analyst said that in his opinion, the British PM "has definitely betrayed us." "She humiliated this great nation in the way that she is giving into the EU demands…Democracy has been denied," he said. "She has betrayed 17.4 million people who took part in the largest democratic exercise for decades. This woman must go."
Like this story? Share it with a friend!
You can share this story on social media: