'They want to silence me': PayPal bans Tommy Robinson for promoting hate & violence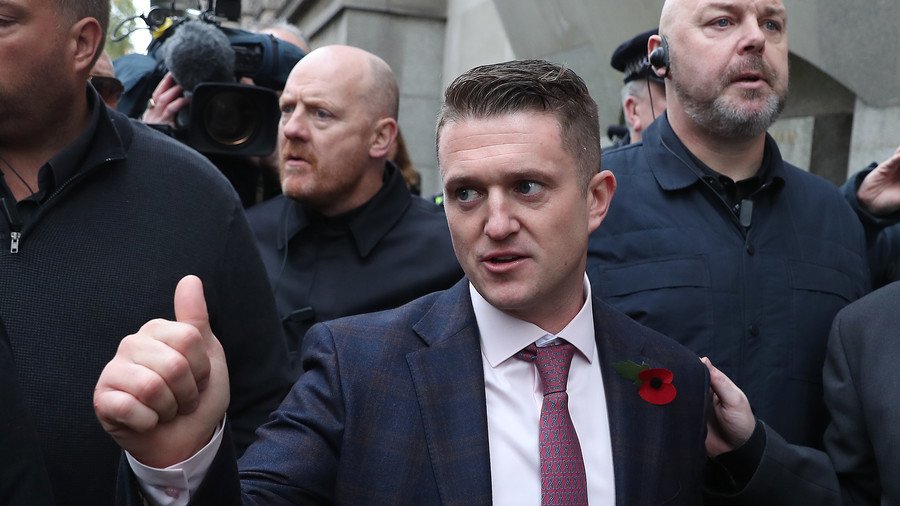 Payment processing giant PayPal has frozen the account of anti-immigration activist Tommy Robinson and banned him from using the service indefinitely.
Robinson, who had been using Paypal to help fund his ongoing legal battles, described the ban as "fascism."
"They just don't like my opinion and want to silence me," the 35-year old said. "The government and establishment can see I have public support, they can see I have the ability to fight back."
For its part, Paypal says it reserves the right to ban anyone that "promote[s] hate, violence, or other forms of intolerance that is discriminatory" saying that Robinson's views did not fit within the user guidelines.
"We do not take decisions like these lightly, and we work hard to be rigorous and fair-minded when reviewing PayPal accounts," the company added. "We work hard to achieve the right balance and to ensure that our decisions are values-driven and not political."
Robinson, the former leader of the English Defence League, was jailed in May for contempt of court for filming defendants in a child grooming trial, threatening to ruin the prosecution's case against the men in the process.
He alleges that PayPal has frozen "a lot" of money that had been in his account for up to 180 days and has been vital to funding his ongoing legal defense.
READ MORE: Tommy Robinson: Case referred to Attorney General because it's 'too complex'
Robinson's 13-month sentence triggered a number of protests amid claims of harassment and abuse in prison. The conviction was later quashed on procedural grounds and the case has since been referred to the attorney general.
PayPal has a history of bowing to public pressure: in the aftermath of the recent Pittsburgh synagogue mass shooting, the company banned the free-speech social media site Gab, which often gives a platform to extreme views. It also previously dropped Infowars, the website run by controversial commentator Alex Jones.
Robinson, whose real name is Stephen Yaxley-Lennon, was also suspended from Twitter for breach of the company's "hateful conduct policy."
Reports suggest that Robinson could stand to make up to £1 million ($1.3 million) during an upcoming tour of the US where he has been invited to speak by a group of Republicans. It remains to be seen whether he will be granted a visa.
READ MORE: Tommy Robinson invited to address US lawmakers, multiple convictions complicate visa decision
Think your friends would be interested? Share this story!
You can share this story on social media: