'Islamophobia allegations politically motivated': Tory vice-chair slammed for remarks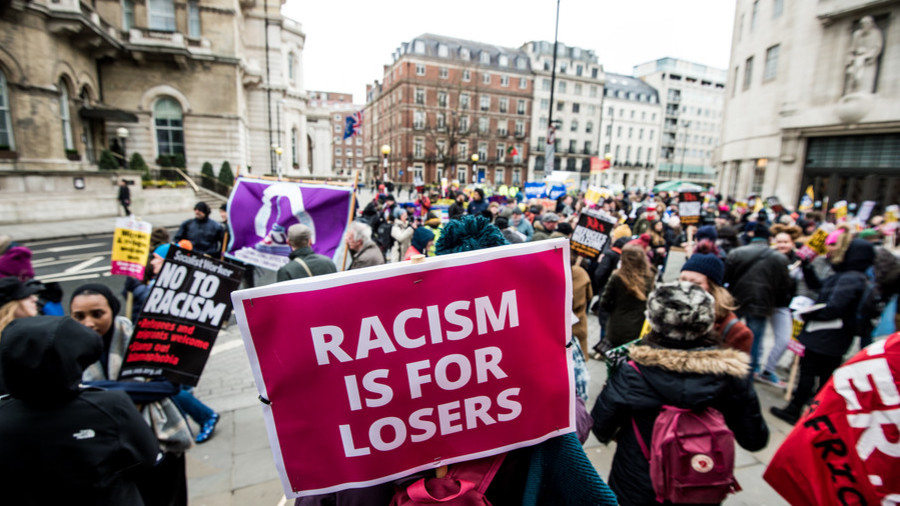 Tory vice-chair Kemi Badenoch MP, has been heavily criticized for claiming that allegations of Islamophobia against Conservative Party members are "politically motivated."
Badenoch, Tory MP for Saffron Walden, made the remarks during a Sky News interview on Sunday, after calls, including from Conservative peer Baroness Warsi and the Muslim Council of Britain (MCB), for a full-blown inquiry into allegations of Islamophobia within the party.
The Tory vice-chair told Sky News' Sophy Ridge: "I don't think that the Muslim Council of Britain is an organisation that would look very favourably on the Conservative Party anyway so I think there is probably a political motive there."
READ MORE: Calls for Tory MP to resign over 'vile racist' and 'Islamophobic' image of pig mounting Sadiq Khan
In response, Baroness Warsi tweeted that her party was in denial yet again on a social issue, insisting "we always find ourselves on the wrong side of history when it comes to the right of minorities."
Miqdaad Versi, a spokesperson for the MCB, voiced his disappointment at the Tory vice-chair's attack on his organisation, while others claimed there would be outrage from the Tories 'if Labour had given the same response regarding anti-Semitism.'
The MCB is the largest Muslim organisation in the UK with over 500 mosques, and educational and charitable associations affiliated to it. They have spearheaded calls for an inquiry and said it has evidenced multiple incidents of Islamophobic incidents being committed by Tory members.
Badenoch had earlier refuted claims that the Tory Party had an issue with Islamophobia within its ranks, saying she "completely" disagreed with Baroness Warsi's assessment.
She said: "We take every single allegation of Islamophobia seriously and where we do find party members or people who hold positions in local government doing things, we suspend them, we investigate them…"
READ MORE: Jewish groups back calls for Tory Islamophobia inquiry in solidarity with Muslim leaders
What Badenoch did not allude to is the fact that the Conservative Party code of conduct does not apply to ordinary grassroots Tory members. It is only applicable to "anyone who formally represents the Party as an elected or appointed official." It calls into question whether the Tories have a disciplinary system robust enough to tackle allegations of racism or Islamophobia.
The Tory's problems reflect that of their Labour rivals. Police announced last week that they have launched a criminal investigation into allegations of anti-Semitic hate crimes committed by Labour Party members, after receiving a dossier of alleged incidents by a complainant in September.
Think your friends would be interested? Share this story!
Subscribe to RT newsletter to get stories the mainstream media won't tell you.
You can share this story on social media: