11-meter Boris Johnson dummy burned at the stake on Bonfire Night (VIDEO)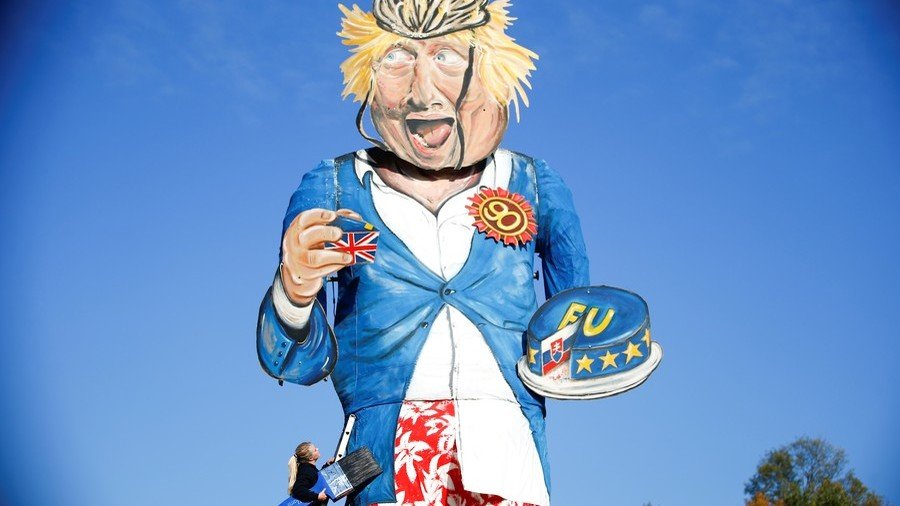 An effigy of former UK foreign secretary Boris Johnson has gone up in flames for Bonfire Night, a tradition usually reserved for the failed gunpowder schemer Guy Fawkes.
On November 5, bonfires are set across the UK to mark the failure of an attack known as the Gunpowder Treason Plot. The failed plan in 1605 was a bid to blow up the British Parliament, and as part of the fiery tradition, a mock-up of one of the plot leaders is set on fire.
This time Boris Johnson's likeness went up in smoke in Edenbridge, Kent, as the local public elected to have a Tory politician dummy doused in fuel.
Footage shows the 11-meter statute of Johnson holding a slice of cake with a Union Jack flag on it. The mock-up even came complete with models of an the now-notorious NHS Brexit bus, which was emblazoned with the Vote Leave claim – since proven to be false – that the UK sends £350 million ($454 million) a week to EU coffers.
At the beginning of Saturday's celebration, a piece of the replica's face appears to blow up before flames engulf the celebrity effigy.
Johnson has now joined the ranks of Iraqi dictator Saddam Hussein and US President Donald Trump, who have all had their effigies burned in the town of Edenbridge.
Organizers of the festival explained the process of choosing the star of each bonfire, speculating that Johnson's tendency to talk without thinking may have made him the lead runner for this year's burning.
READ MORE:Giant bonfires to flare in N. Ireland's skies for 11th Night celebrations (PHOTOS)
"We have a celebrity effigy who appears on our field every year," one of the organizers said.
"The celebrity effigy gets voted by the public and what happens is all the nominations that get put forward get discussed at a committee meeting and a decision is made. This year we have Boris Johnson who has perhaps made one gaffe too many and has ended up in our effigy hall of fame."
If you like this story, share it with a friend!
You can share this story on social media: