Assault accusations fly after Chinese state reporter kicked out of Tory Conference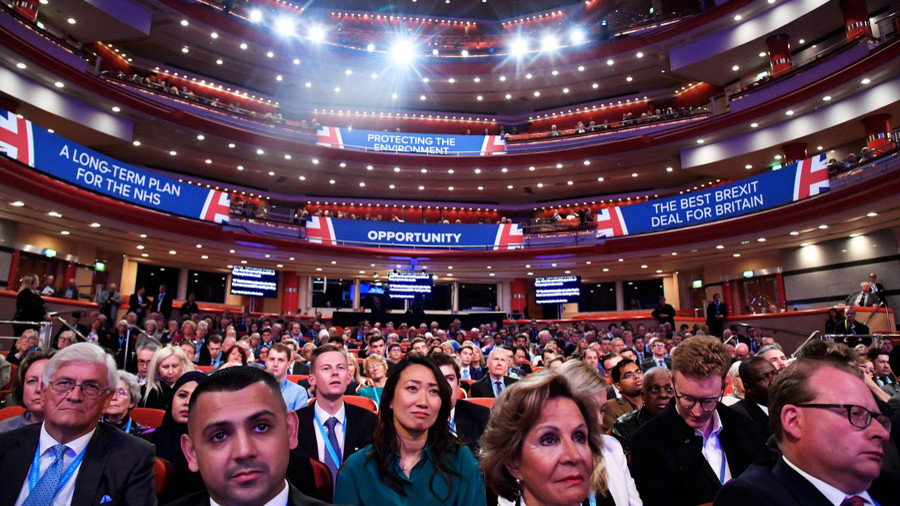 A Chinese reporter has been involved in a fracas at an event on Hong Kong at the Tory Party Conference, with claims she "assaulted" a volunteer, while CCTV, her employer, claim it was in fact their journalist who was attacked.
Video footage of the incident shows Chinese TV reporter, Kong Linlin, shouting "Hong Kong puppet" at a panel organised by Hong Kong Watch, a UK-based lobbying group formed by Conservatives human rights activist Benedict Rogers and boasting luminaries of British politics - including patrons, former Lib Dem leader Paddy Ashdown and Sir Malcolm Rifkind, who served as a Tory minister under Prime Ministers Margaret Thatcher and John Major.
Credit: Adam Kerson
Linlin can be heard screaming "leave me alone" before being seen to hit a volunteer at the event, who, according to Hong Kong Free Press (HKFP), is believed to be Enoch Lieu, a British Keele University graduate who was born in Hong Kong.
Lieu told HKFP that he had tried get the Chinese reporter to leave the room, but was refusing to do so before what he describes as an assault from the female journalist – claiming she slapped him twice in the face. Video footage does not conclusively prove this to be the case.
Lieu said: "I always know events on Hong Kong will attract hostile attention from China, however I wasn't expecting I [would] be assaulted by a CCTV reporter right at the party conference.
"The reporter continued her shouting and whilst I was trying to escort her out, she accused me of trying to silence her. Then I said no miss you have to go. All of a sudden, she slapped me in my face," he added
The event, entitled "The Erosion of Freedom, the Rule of Law and Autonomy in Hong Kong," was attended by Rogers, Fiona Bruce MP for Congleton in Cheshire, along with Hong Kong pro-democracy figures.
Following the incident, state television broadcaster China Central Television (CCTV) released a statement claiming that their reporter was "blocked and assaulted when she raised a question and expressed her opinion," and have demanded an apology.
READ MORE: 'The People's Republic of Jam Jar' – Rees-Mogg condemned for 'casually racist' comment
A spokesperson for CCTV said that such behaviour towards their employee was "unacceptable" and "the organizer of [the] event must apologize to our journalist, and the UK police should protect her legitimate rights."
A spokeswoman for West Midlands police said: "Police were called to hall 11 at the ICC yesterday at 2.30pm after reports a disturbance had broken out during a talk on Hong Kong. A 48-year-old woman from King's Cross, London, was arrested on suspicion of common assault. She remains in police custody."
It's only been two days of the Conservatives' party conference, but it's already caused controversy, with half-full auditoriums for the main speakers, Jacob Rees-Mogg making offensive "jam jar" remarks about Libya and "chuck Chequers badges-gate" all grabbing the headlines so far.
Think your friends would be interested? Share this story!
Subscribe to RT newsletter to get stories the mainstream media won't tell you.