Tommy Robinson threatens Sky News with legal action over 'lies and propaganda' in edited interview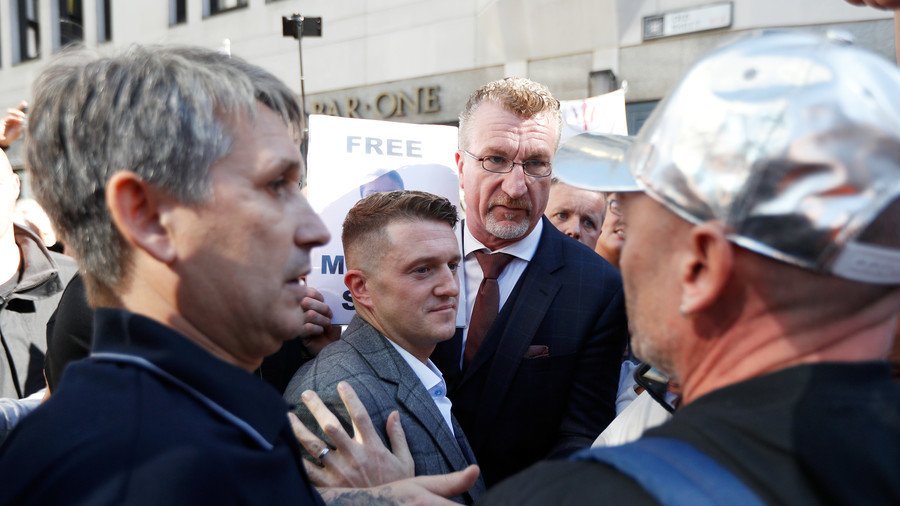 EDL founder Tommy Robinson has accused Sky News of editing their interview with him to make it seem like he said he didn't mind inciting fear of Muslims, a sentiment which was reported in the press, including by RT.
The far-right activist turned self-styled journalist, Robinson was interviewed by Sky News Home Editor Jason Farrell. In the nine-minute edit of the video, which was seen by RT UK, Robinson appears to say that he wouldn't care if his activism incited fear of Muslims.
READ MORE: Tommy Robinson's page removed from Instagram
The point was reiterated by an accompanying article that was headlined: "Tommy Robinson: I don't care if I incite fear of Muslims."
In a response video titled: "Exposing Sky News lies and propaganda – I will take them to court for this," Robinson states: "[The] headline that's gone all around the world says that Tommy Robinson says he doesn't care if he – as in me – incites fear against Muslims."
As detailed in a video published on his YouTube channel, the excerpt was edited with a voice-over from Farrell coming before Robinson's answer, which changed the context of the question.
"In the voiceover he leads the public to believe that he's asked me about my opinions causing fear into Muslims, and then he cuts and edits an answer I give to a completely different question that's completely out of context," claims Robinson, before adding: "It looks like I'm answering the question that he's put in his voiceover, and it has me saying that I don't care if it instills fear, so long as it prevents the rape of young children."
Footage that Robinson claims was secretly filmed by 'his cousin' shows that the activist was in fact responding to a question on an educational video on grooming gangs, which he claims is shown in the Netherlands, but banned in UK
Robinson signs off his response video by branding the Sky News interview as "not journalism but propaganda."
Farrell wrote a piece for Sky News defending his interview, not on the grounds of its selective editing but rather over criticism that it provided a platform for Robinson and his views. "Are we not interested then in quizzing him about who he is now, and how he justifies his more recent words and actions?"
READ MORE: 'Mentally tortured' Tommy Robinson complains of no TV during prison stint, likens it to GITMO
Farrell hailed his interview, arguing: "I think we learned a few things about Tommy Robinson during my interview, and that is what counts," though it might not be the lessons he had in mind.
If you like this story, share it with a friend!
You can share this story on social media: