Corbyn as PM would overhaul BBC & tax tech giants in bid to make media 'hold power to account'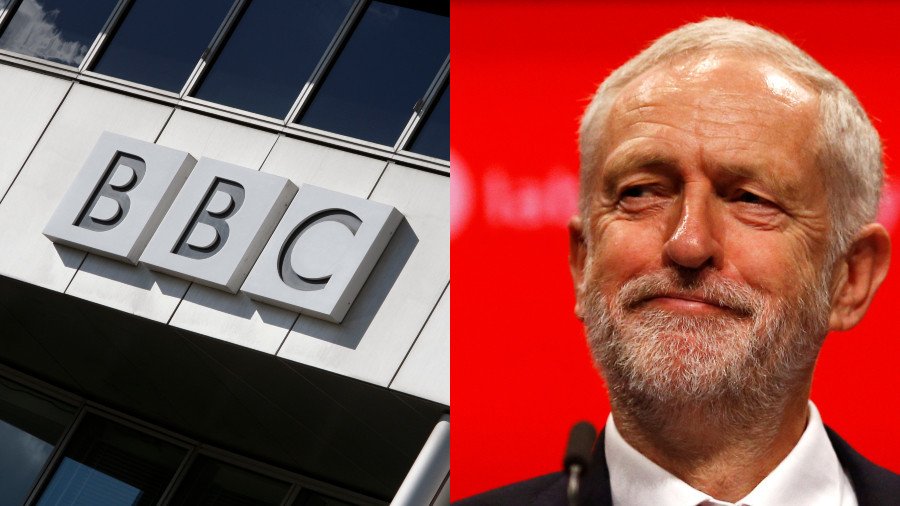 Britain's Labour Party would tax tech giants and shake up the BBC, as part of a media strategy to be announced by leader Jeremy Corbyn. It aims to build "a free and democratic media for the digital age" if the party wins power.
Corbyn is expected to outline the plan during a speech at the Alternative MacTaggart Lecture at the Edinburgh TV Festival on Thursday, where he will call for radical reform of the UK media landscape, and claim journalists are being "held back" by media tycoons or, in the case of the BBC, by excessive state influence.
"We need to set journalists and citizens free to hold power to account, by breaking the grip of tech giants and billionaires on our media," Corbyn said Wednesday night on Twitter.
Outlining his vision for the future of the BBC, the Labour leader's speech will promote complete transparency about the diversity makeup of the BBC's work force and allow for the election of some BBC board members by the corporation's staff as well as license fee payers. Labour would also remove the government's powers of appointment.
Another measure would see Labour impose a digital top-up to the license fee, payable by tech giants or internet providers in order to supplement the existing licence fee with a view to reducing the cost for poorer households.
Public interest journalism would be supported by Labour, with Corbyn expected to say that without it, a "few tech giants and unaccountable billionaires will control huge swathes of our public space and debate."
To this end Corbyn will advocate that not-for-profit news organisations, like the Bureau for Investigative Journalism, should be given charitable status while the creation of "news co-operatives" could be created with a remit to report on local government, private contractors operating public services, and regulated bodies.
"The best journalism takes on the powerful, in the corporate world as well as government and helps create an informed public," Corbyn's text says. "This work costs money. We value it but somehow that does not translate into proper funding and legal support."
The plan has already been slammed by the ruling Tories, with the party's deputy chair James Cleverly saying the measures were only going to result in more charges for the consumer.
"Tech companies would just put up their prices and pass this internet tax straight onto families and businesses across the country — adding more pressure to weekly bills," he said.
READ MORE: Hysteria and hypocrisy? MSM launch assault on Corbyn over 'anti-Semitism'
Labour's media plan comes amid an ongoing battle between the Labour leadership and British media outlets, including the BBC, which have been accused of bias in their coverage of stories about Corbyn.
Last week, the party filed a complaint to the Independent Press Standards Organisation (IPSO), over reporting by several British right-wing newspapers, many owned by Rupert Murdoch's News International, over "misleading" coverage of a wreath-laying event Corbyn attended at a cemetary in Tunis, in 2014.
In March, a report by BBC's 'Newsnight' program was accused of "extreme bias" against Corbyn after it produced a mocked-up image of him wearing a Bolshevik-style hat superimposed in front of St. Basil's Cathedral.
Like this story? Share it with a friend!
You can share this story on social media: