In ironic twist China mulls replacing defunct 1-child limit with 1-child tax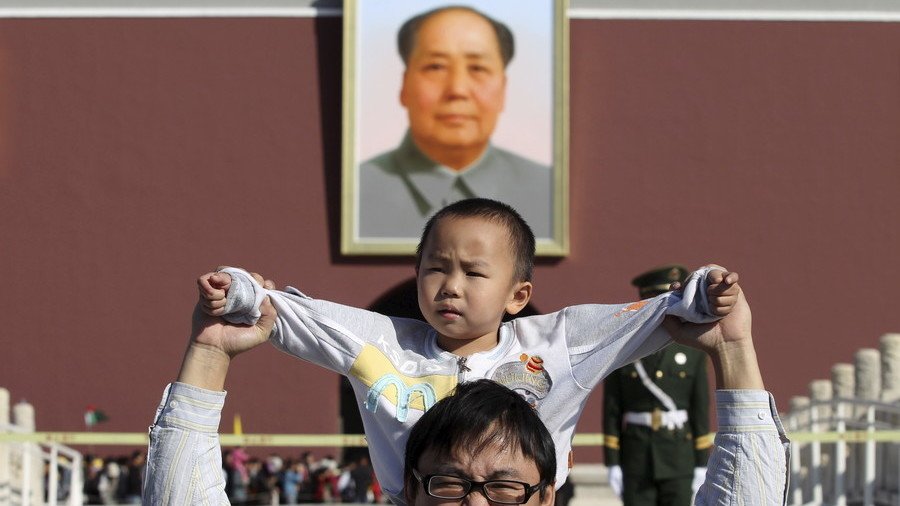 A proposal to tax adults who have fewer than two children has sparked a heated debate in China, after Beijing dropped its one-child policy in the hope of countering a looming demographic crisis.
The idea of requiring childless or one-child adults to contribute towards a "reproduction fund" to assist families with more than one child was among the most controversial policy suggestions made by two Chinese academics in an article published by Communist Party mouthpiece Xinhua Daily last week.
The controversial article comes amid a nationwide campaign to encourage people to have more children, with Beijing scrambling to reverse a rapidly ageing society, shrinking workforce and falling birth rate, creating a demographic time bomb.
But critics of the proposed tax say that the proposal, similar to the government's recently-abandoned, decades-long one-child policy, is needlessly intrusive and will have negative consequences down the road. Introduced in 1979, the one-child policy fined people for having more than one child and some women were even forced to have abortions or undergo sterilization – government-imposed measures now believed to have played a central role in the country's looming demographic crisis. It's believed that the policy prevented some 400 million births.
The piece has prompted fierce debate in China, with millions of comments online, and coincides with the government's unveiling of a new official postage stamp, which some commentators suggest may mark plans to end all limits on children per family. The stamp, commemorating the Year of the Pig, shows two parents with three piglets.
The academics, from Nanjing University, wrote in their article that they expect China's birth rate to drop significantly if action isn't taken – the "reproduction fund" being one of their ideas to stimulate the birth rate. However, the scholars reassured their readers that those required to pay into the "reproduction fund" would receive their contributions back when they reached retirement age.
Even still, the idea of the government not just encouraging child-rearing but essentially penalizing those who don't partake in reproduction, crossed a line for many Chinese.
Huang Rongqing, former head of the population and economics institute at Capital University of Economics and Business in Beijing, told the South China Morning Post that the proposal was "ridiculous."
"The choice of whether or not you have a baby is a family's decision to make. We can encourage people to have babies with incentives but not by forcing taxes on everyone. This would be a violation of human rights, just like it was when we used to limit the population," Huang said.
The floated policy even drew sharp criticism from state media. State broadcaster CCTV characterized the proposal "absurd" in an editorial on its website, while state tabloid The Beijing News asked rhetorically, 'What has other people having more babies got to do with me?'
Beijing's decision to rescind its one-child policy in 2016 led to the highest birth rate in the country in over 15 years, but the baby boom isn't expected to last long: Some 60 percent of Chinese parents have stated that they don't want to have a second child, citing financial concerns. In response, the government has been mulling financial incentives to encourage families to have more than one child.
But while the government is desperately trying to get its citizens to have more children, Chinese authorities are apparently still wary of the country's most enthusiastic reproducers. A father of four was forced to have a vasectomy by local authorities last year, after violating the two-child policy and refusing to pay a fine.
Meanwhile, the number of births in China keeps decreasing, from 17.9 million in 2016 to 17.2 million last year.
Like this story? Share it with a friend!
You can share this story on social media: