'Extreme bias': BBC blasted for Corbyn Bolshevik backdrop on Newsnight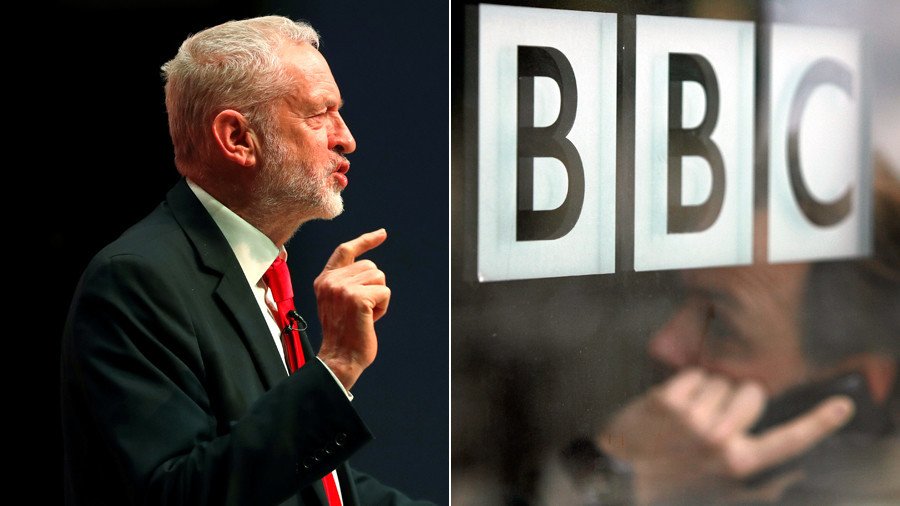 BBC coverage of Jeremy Corbyn has been blasted by his supporters after the use of jaw-dropping graphics once again called the broadcaster's impartiality into question. The BBC has been labeled a Tory propaganda tool.
Interviews were carried out on Newsnight on Thursday evening in front of a red-tinted image of Corbyn wearing a Russian Bolshevik cap against a doctored backdrop of Moscow's iconic St. Basil's Cathedral.
Ayesha Hazarika, former special adviser to Harriet Harman and Ed Miliband, was interviewed about the Skripal poisoning and the government's reaction, along with Corbyn ally, Chris Williamson MP. When asked about Corbyn, Hazarika said "people were not completely clear about what he was saying."
Corbyn has been criticized by MPs from both parties after asking the government for proof that Russia was behind the poisoning of ex-spy Sergei Skripal and his daughter Yulia. Theresa May declared that Russia was "most likely" behind the incident, describing the nation as "culpable."
READ MORE: Corbyn warns against 'McCarthyite intolerance of dissent' over Russia accusations
When the BBC decided to cover the issue, Newsnight's producer mocked up a red backdrop adorned with Corbyn's face, aping the style of early Bolshevik posters.
Labour MP Nick Torfaen told Newsnight that Corbyn had been reasonable in his response: "Jeremy Corbyn made clear that we should have a decisive, proportionate response based on the evidence… and that's an absolutely reasonable position for the leader of the opposition to take."
It was the backdrop, however, that became the talking point on Twitter. One person wrote to Ofcom to complain. He said: "Please investigate why it was necessary for Newsnight to use a backdrop of Russia with a picture of Jeremy Corbyn on the show last night. This really is seriously biased and damaging Jeremy Corbyn's reputation." Corbyn fans were furious.
If you like this story, share it with a friend!
You can share this story on social media: