BBC accused of 'breaching code' by putting Assange critic in charge of special on WikiLeaks founder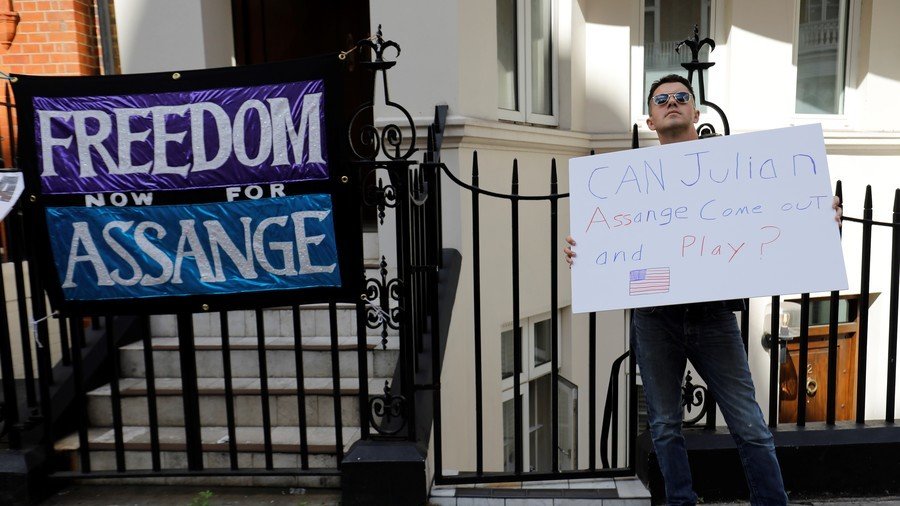 BBC's Newsnight will air a special on WikiLeaks founder Julian Assange hosted by journalist John Sweeney, despite what the #FreeAssange campaign say are tweets in "clear breach" of the BBC objectivity standards by the journalist.
"John Sweeney put in charge of tomorrow's Julian Assange special despite (because of?) malicious tweets in clear breach of BBC code," the #FreeAssange campaign tweeted.
The campaign, which has more than 790,000 followers on Twitter published a list of tweets in which the BBC journalist repeatedly mocks and calls the Wikileaks founder a "Russian agent," a "Kremlin asset" and Vladimir Putin's most "useful idiot". But, despite Sweeney's personal feelings about Assange being on full display all over Twitter, he will still host the special on the whistleblower.
The #FreeAssange campaign has traded barbs with Sweeney on Twitter in recent days, calling the BBC employee a "UK state TV propagandist". Sweeney responded to say that the campaign's characterization of him was "twaddle".
Assange has been living inside the Ecuadorian embassy in London for six years and fears extradition to the United States over millions of leaked documents and classified US military footage. Recent reports have suggested that due to his deteriorating health, Assange may be leaving the embassy soon.
The Courage Foundation, which fundraises for the legal defense of whistleblowers, said the conditions in which Assange is living with "no access to sunlight" are having a serious impact on his "physical and mental health".
Sweeney has a history of making his personal feelings about various political figures clear. A look at his Twitter profile shows that he has also retweeted numerous comments highly critical of UK Labour leader Jeremy Corbyn, and that he appears to have somewhat of a fixation with Russia.
Sweeney made headlines in 2014 for "doorstepping" Russian President Vladimir Putin in Moscow to ask him whether he "regrets the killings in Ukraine". Putin stopped to answer the question through a translator.
An article in the UK's Independent newspaper at the time said that Sweeney had "a reputation for sailing close to the wind".
Assange's mother, Christine Assange, tweeted that her son is "sick, in pain & suffering" and labelled BBC journalists involved with the special "career building cowards" who want to "kick him when he's down".
You can share this story on social media: