Assange may finally leave Ecuadorian embassy in London as health worsens – report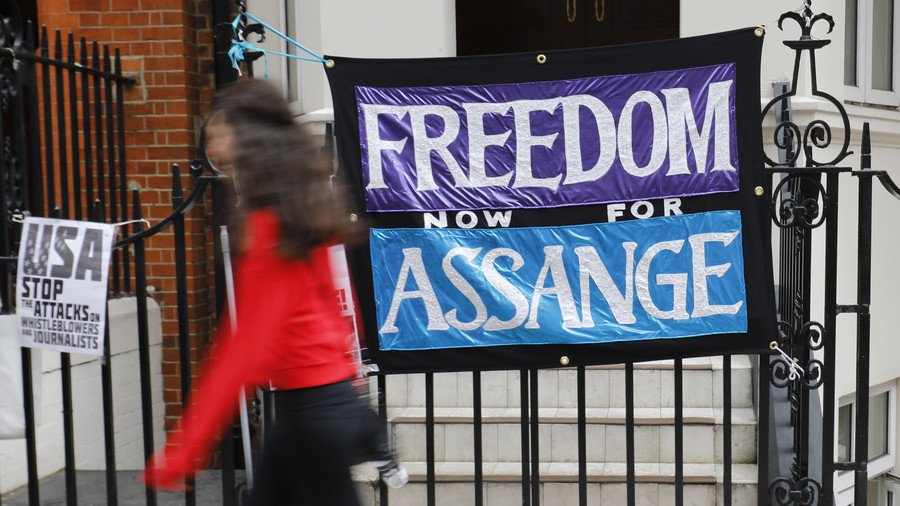 Julian Assange, who has spent more than 2,230 days in the Ecuadorian embassy in London, is expected to leave the building soon with his health deteriorating, sources say.
This latest information about the WikiLeaks founder, who was already expected to leave the embassy "in the coming weeks," was broken Wednesday by Bloomberg which cited "two people with knowledge of the matter." The news agency reported that the whistleblower's health "has declined recently."
READ MORE: Assange will eventually have to leave our embassy in London – Ecuador President
The news comes days after Ecuadorian President Lenin Moreno announced that Assange must "eventually" leave the embassy. "Yes, indeed yes, but his departure should come about through dialogue," the Ecuadorian president said in answer to a reporter's question on whether he will eventually have to leave.
"For a person to stay confined like that for so long is tantamount to a human rights violation," Moreno said, stressing that Ecuador wants to make sure that nothing "poses a danger" to the whistleblower's life.
The whistleblower's health is deteriorating, according to the Courage Foundation, a group that fundraises for the legal defense of whistleblowers. Assange is in "a small space" and has "no access to sunlight," the group says, adding that this has a serious impact "on his physical and mental health."
Rape allegations, stemming from Assange's visit to Sweden in August 2010, were the main reason that he sought refuge in London's Ecuadorian embassy in 2012 when a warrant was issued for his arrest. Assange maintained that he could be extradited from Sweden to the US, where he would be prosecuted for his whistleblowing and would not receive a fair trial. Swedish prosecutors dropped the investigation in 2017, but a British warrant for violating bail conditions still stands.
Washington simply "wants revenge" for the "embarrassment" WikiLeaks caused it, and wants it to serve "as a deterrent to others," human rights activist Peter Tatchell told RT earlier in July. "Someone who's published that information in the same way that the New York Times or the Guardian publish information, I don't think they should face risk 30 or 40 years in jail in the United States," Tatchell added.
Launched in 2006, the WikiLeaks project is aimed at exposing government and corporate secrets. It garnered global attention back in 2010 with its massive release of classified US military documents, which included those detailing how American military equipment was deployed in Afghanistan and Iraq. Assange won thousands of admirers, with many applauding his willingness to speak the truth.
Subscribe to RT newsletter to get stories the mainstream media won't tell you.
You can share this story on social media: