Assange will eventually have to leave our embassy in London – Ecuador President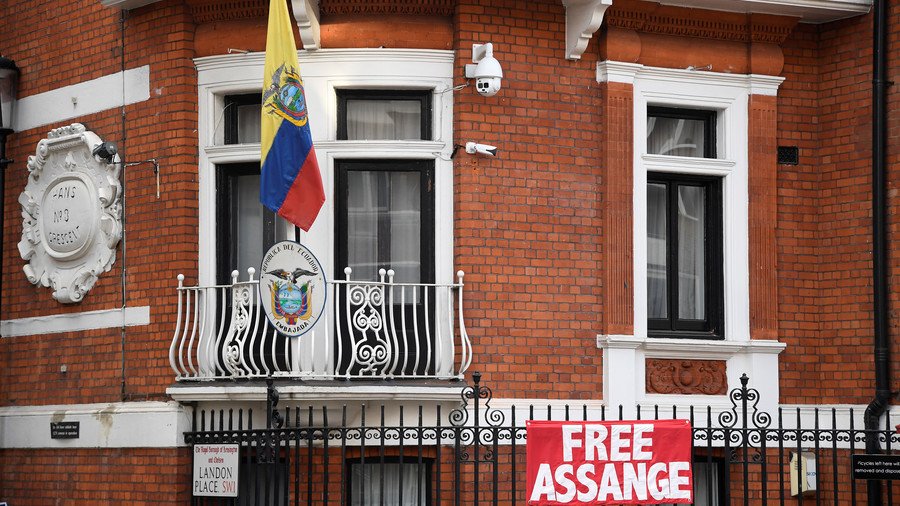 WikiLeaks founder Julian Assange is a step closer to being evicted from the Ecuadorian embassy in London after President Lenin Moreno said the whistleblower must "eventually" leave the facility.
"Yes, indeed yes, but his departure should come about through dialogue," the Ecuadorian president said on Friday answering a reporter's question on whether Assange will eventually have to leave.
"For a person to stay confined like that for so long is tantamount to human rights violation," Moreno said. He added that Ecuador wants to make sure that nothing "poses danger" to the whistleblower's life.
The news came on the heels of earlier reports that the founder of the whistleblowing portal would be handed over to British authorities. Assange's relationship with Ecuadorian officials had appeared increasingly fraught, with the country, which provided him with asylum and citizenship, cutting off his internet connection in March.
The official reason behind the move was to stop Assange from "interfering in the affairs of other sovereign states," Ecuador said at the time. Efforts to have an arrest warrant against Assange dropped by the UK failed earlier this year.
The whistleblower is feared to be facing extradition to the US over troves of leaked documents. In 2010, WikiLeaks published classified US military footage entitled 'Collateral Murder.' It featured a US Apache helicopter gunship opening fire on a number of people killing 12, including two Reuters staff, and injuring two children.
Multiple activists and human rights groups have been demanding to free Assange. In 2016, a UN panel also found that Assange's stay in the embassy amounted to "arbitrary detention," but nothing has changed since then.
The reason behind Ecuador's change of heart towards the whistleblower is unclear, but "pressure has been brought to bear, presumably by the United States," human rights activist Peter Tatchell believes.
"The prospect of the president revoking those protections that go with citizenship and asylum, that's a very very big deal, very big step to abrogate the right to protect an Ecuadorian citizen," Tatchell told RT.
The rights activist said that the WikiLeaks founder is actually a "hero" who shed light to the government and military abuses, and certainly does not deserve the prosecution and a prison term. However, Washington simply "wants revenge" for "embarrassment" WikiLeaks caused it and wants it to serve "as a deterrent to others."
"Someone who's published that information in the same way that the New York Times or the Guardian publish information, I don't think they should face risk thirty or forty years in jail in the United States," Tatchell said.
Subscribe to RT newsletter to get stories the mainstream media won't tell you.
Think your friends would be interested? Share this story!
You can share this story on social media: